Why do we not hear about Winberries?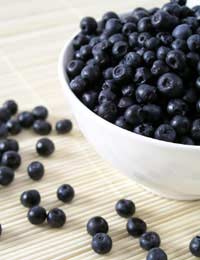 Q.When are winberries in season and why do we not hear alot about them anymore?
(Mrs Carolyn Briggs-Conway, 6 October 2008)
A.
The first part of your question is a lot easier to answer than the second – if you're looking to harvest some wild winberries, then I'm afraid you've almost certainly missed your chance. In most years, they can be collected from July to September, though depending on the weather and whereabouts you are in the country that can stretch a bit in either direction.
Local Names
As to why we don't hear much about them anymore – the answer is probably because they also have a number of other names, which seem to have become more commonly used. Winberries – sometimes written as whinberries, whimberries or whynberries – are also known as blaeberries, bilberries, whortleberries or huckleberries (as in Mark Twain's Huckleberry Finn). Originally largely regional names, people obviously kept the name for these delicious berries that they were used to when they moved, so there is now considerable confusion as a result, with a lot of people firmly convinced that they are all different fruits!
Throw in the influence of other countries "folk" names for winberries – especially Finland and Scandinavia where they have been historically used – and things get even more complicated, with the likes of "blåbær" being normally translated as "blueberry".
A Little Bit of Botany
Along with the likes of cranberries, blueberries and lingonberries, winberries belong to the botanical genus Vaccinium, which is part of the Heath or Ericaceous family of plants (Ericaceae).
The group contains around 450 species, most of which live in the cooler and more westerly parts of the northern hemisphere – though a few are found south of the equator. Just to complete the picture of horticultural confusion, many of these species can hybridise – and then goodness only knows what you'd call them!
Changing Times
Until fairly recently, there were plenty of recipes for winberries, particularly amongst country-folk, but with the growth of supermarkets and imported "proper" fruit, like many of the old staples, the blaeberry seems to have fallen out of favour – at least until now.
In one of those ironic twists, as society has become more concerned about organic and environmental issues – things like food miles and how our food is produced has started to bring many of the old favourites back in fashion.
While we may not all start cooking the rabbit, grouse, venison or pigeon for which winberries once formed the traditional accompaniment, these wild berries may yet become more popular once again and then you'll hear more about them – whatever you call them yourself!
FRUIT EXPERT IS FOR SALE:
This website is for sale [more info].
You might also like...
another old guy who remembers this delicious fruit, and would love to have another taste of it ? live in salford ,not a chance ? or do you know better ??
skip
- 3-May-21 @ 6:21 PM
DuringWorld War 2 in Nantyffyllon South Wales as a young lad I used to pick wimberries on Pwll yr Wlch mountain and sell them for a shilling a pint. It so long to pick that amount that my father used say they were worth a pound a pint!!
Windsor
- 9-Feb-21 @ 4:51 PM
Wimberry pie is unbelievable.I've just (by accident) found some frozen in lidls!They are called blueberries but aren't! They are wimberry!Making a pie tomorrow! Good luck. Hope you read this!
Lovescats333
- 16-Jan-21 @ 7:33 PM
Winberry and apple, or winberry and mint tart. Yum!!Sadly our local patch has been cleared to make way for cycle paths, but I still know of one local patch in mid Wales . .
Eddyj
- 19-Sep-20 @ 7:27 PM
My gran from Clun in Shropshire used to make lovely whimberry pies. They tasted and looked so exotic. We picked them and a man wearing a black beret and driving a little black ford pop I think used to sell them around Clun. He picked them in the Long Mynd. I used to be terrified when picking them because my gran would say. Watch out for adders. The cafe at Clun bridge is selling whimberry flavoured ice cream and I tried one today as I was visiting. Sadly saw no pies to buy. Someone told me a lot of the whimberry bushes have been cleared on the Long Mynd in the name of conservation.
I live in the USAbut am a Welsh boy. I was looking for a way to send some whimberries to my Dad who still lives in Merthyr for a tart. It's great to see comments from folks in Aberdare Rhondda, Ebbw Vale area, Deri ( I grew up in Bargoed). I wanted to get over there this year, and I would have gone and picked some for my Dad,.but the bloody virus saw that off. He is 84 so can'tget out anymore. If anyone knows where I can get some, sent by post, let me know.
Uzi
- 27-Aug-20 @ 11:38 PM
I would love to taste wimberry tart/pie again - we used to get them when we lived near Manchester. My mum made lovely pies - such a unique taste
Mrs cls
- 23-Aug-20 @ 7:28 PM
All those question marks in my previous message are meant to be emoticons of face licking lips. Don't think your website recognised the emoticon!
Zedela Montanya
- 11-Jul-20 @ 4:12 PM
My aunt used to go collecting whinberries high up on the Long Mynd in Shropshire. My RAsister and Isometimes went along and helped. The views were amazing and I'll never forget the pies we would eat for the next few weeks. ??????????????
Zedela Montanya
- 11-Jul-20 @ 4:08 PM
Picked winberries this week on the mountain and made a frangipan
LOOBY LOO
- 27-Jun-20 @ 9:23 PM
Left the house half 4 this morning with the pooch and picked hundreds of windberies. 1 hour walk from my door to the nipple on top of the mountain.Twmbarlwm mountain over looking some beautiful scenery .they are thriving up their!!!!
Azz
- 24-Jun-20 @ 11:41 AM
Oh I'd love to taste whimberry tart again... how can I pick or buy some? My mum who is 88 would be over the moon to taste a whimberry tartonce more. Having grown up in Deri, it was the highlight of the summer.
Ceri2
- 17-Jun-20 @ 9:49 AM
We used to collect wimberrys on the Moors around the area where I grew up Glossop in the peak District Derbyshire. What I miss most is the smell of wimberry pies with soda pastry baking on a Sunday morning. They were so fragrant.
Vanburger
- 26-May-20 @ 3:00 PM
Walked the mountain between Aberdare and Rhondda yesterday. Found a tonne of wimberries which will be ready for picking end of July-early August... Roll on!! ????????????????
Mosy
- 19-Apr-20 @ 5:32 AM
I remember my mam making the winberry tarts when i was a child living in the Merthyr Tydfil area then, but i never see them now ,I loved the taste.
Cookie
- 7-Apr-20 @ 10:19 PM
I am 83 and now live in Australia. As youngsters my wife and I grew up in Abercarn and Newbridge in the Ebbw Valley. We have fond memories of our years in the valleys. Wimberry and blackberry picking were great outdoor activities. The very top of the Gwyddon Valley was a good place for Wimberries. A place of peace, quiet and solitude and outstanding beauty.
Shroppy
- 2-Nov-19 @ 3:47 AM
Whimberries collect and eaten today from the Shropshire Hills! Delicious!
KEW22
- 1-Sep-19 @ 11:29 PM
Just eaten a piece of delicious Winberry tart lovenly made by my sister Kay from Maesteg. I haven't tasted Winberries in over 50 years and my childhood has just flashed before me. Thanks Sis
Dawni
- 15-Aug-19 @ 8:23 PM
Just had a piece of delicious winberry tart lovingly made by my sister Kay from Maesteg.Itsthe fMAirst time I've had winberries in 50 years. My childhood flashed before me. Thanks sis
Dawni
- 15-Aug-19 @ 8:11 PM
Still surprises me how many people haven't heard of the winberry it seems to be a valley thing I think, I'm lucky enough too have them few miles drive in what ever direction I drive, I pick them every year have done since I was a child back breaking but worth the effort they make a delicious tart if you haven't tried a valleys winberry tart you haven't lived
Diane
- 13-Aug-19 @ 1:00 AM
I live in Blaengarw, in the Garw Valley. They are everywhere here.
Jackie
- 10-Aug-19 @ 12:03 PM
Bought some pies at Bury Mkt today Also saw fresh berries to buy too What a treat????
Yum
- 26-Jul-19 @ 5:21 PM
Hello, I'm originally from Rhymney and as a child I would be up the mountains picking Winberries. I want to take my son picking but we now live in Cardiff, I travel up the valleys every week and I went to the place I used to pick them as a child but they don't seem to grow there anymore, so not sure of the best place to take him, any advice would be much appreciated. Diolch!
Mammagino
- 22-Jul-19 @ 10:03 PM
I'm lucky to have them growing just across the road from my home in South Wales we call them winberries...I picked some today and shall be making a lovely tart tomorrow ??
Sal
- 15-Jul-19 @ 6:13 PM
When's the best time to go whimberry picking up rivvy pls
Vi
- 19-May-19 @ 12:43 PM
My post should have said Rivington Pike nearthe terraced gardens and the Rivington tower
SassyR
- 26-Aug-18 @ 8:25 AM
Yes up Rivington park on the middle car park and walk towards the tower on the left hand side of the road there's hundreds of bushes and paths through pick away we spend around 3 hours to pick enough for 2 pies but loads of livel bushes all together
SassyR
- 26-Aug-18 @ 8:21 AM
Hi, I used to go wimberry picking with my grandparents as a child near Uppermill and on Saddleworth moor but now live near Bolton.Can anyone point me to somewhere I can forage for them?Thanks
swolst
- 25-Aug-18 @ 2:01 PM
we sell them at our greengrocer shop in Ludlow Shropshire SY8 1AP
Ross
- 2-Aug-18 @ 4:00 PM
Winberries so called as they used to be called WINDberries as the flowers on the bushes need wind to properly pollinate - so I was told years ago.....
Jujieb
- 29-Dec-17 @ 8:24 PM