The medlar tree originates from Southwest Asia and its history spans back more than 3,000 years. Medlar fruit was extremely common during Roman and Medieval times. Medlar Fruit looks like a small brown rosehip when ripe, and is rich in natural antioxidants.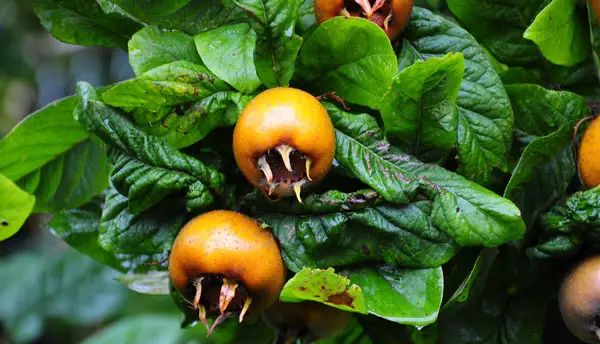 Despite its fascinating origins and purpose, it's less widely grown now. Medlar is best eaten once it's bletted and in countries such as Spain, is considered a gourmet fruit.
---
What is Medlar Fruit?
Medlars are members of the pome family, related to apples and quinces. Not considered the most attractive of fruits, medlars have a brown appearance with hairy skin.
It's an unusual food in that you wait for it to blet before eating it. The bletting process involves waiting to harvest it when it is overripe or, some would say, rotten.
---
What do Medlars Taste Like?
The medlar has a very soft texture and a sweet flavour. Its taste has caramel overtones and has been described as similar to a very ripe date. There is a hint of acidity in there too, which creates a good counterpoint to the sugary notes.
---
What is Bletting?
Bletting is a process where the fruit is left to "mature" before picking, it should be softened past the point of ripeness before harvest.
Referring to the fruit as "rotten" is not entirely accurate, but that is the essence of the bletting process. This description may explain some of it's decline in popularity!
These round brown fruits are hardy and do well in UK gardens. Medlars are related to quince and apples although not widely sold in UK supermarkets.
---
Popular Ways to Eat Medlar
Medlar cheese is a popular delicacy in European countries and the fruit makes great medlar jelly which has a delicate and unique spiced apple flavour.
Medlar fruit trees can be harvested late in the year during winter. This adds to its uniqueness and they fare well against the cold climate.
These hardy fruits can withstand temperatures as cold as -20°C and don't succumb to frost damage. Certainly, medlar popularity has dropped and it's not a fruit you will be able to buy routinely in the shops.
Therefore, if you are lucky enough to have a medlar tree in your garden, you are in for a treat. Whether you eat the fruit raw or cooked, you'll be pleasantly surprised by its sweet taste.
---
All About Medlar Fruit
Scientific Name: Mespilus Germanica.
Fruit Family: Rosaceae aka the Rose Family.
Related to: apples, pears, quinces, apricots, plums, cherries, peaches, raspberries, loquats, strawberries, rose hips, hawthorns and almonds.
---
How to Grow Medlar
A hardy and frost resistant tree, you can grow this fruit without too much gardening experience and it's a great starting point.
You should aim to plant your medlar tree out between November and March. Despite being a hardy tree, be sure to have adequate shelter and sun so that it will grow to its potential.
Medlar trees will tolerate most soil conditions as long as there is good drainage and watering is frequent. This type of fruit tree will benefit from being supported with some stakes for its first few years.
You can opt for a patio medlar tree, dwarf medlar tree, or a full-sized medlar specimen, so no garden will be too small. The height of your tree will vary depending on the rootstock but it can range from 1.2 metres to 8 metres.
---
Harvesting Medlar Fruit
There are a few key indicators that will tell you when medlars are ready to be harvested by October and November time. With medlar fruit the later you harvest them, the better.
The fruits should fall away from the stem with ease – you shouldn't need to pull.
One or more frosts should pass before the fruit is picked as this encourages the bletting process to begin.
All the leaves will fall off the tree and this is a sign the fruit is ready to be harvested.
Tips For Harvesting Medlar Fruit
Harvesting your medlars can be a little tricky. As with many things in life, timing is everything, and impatience can spoil your produce!
Don't be tempted to pick the fruit early – ideally, wait until there have been a few frosts.
Once you have picked your medlars, they should be left to blet for another few weeks.
Store them in a box in a cool room until they are soft and edible.
Use your medlar glut to make some medlar jam or cheese.
---
How to Use Medlar
Medlar needs to "blet" before it's consumed which seems odd to say the least.  The process feels a little like you are letting the fruit rot, but it's more of a softening process.
By understanding the bletting process you will have much more desirable results. Unripe medlars are inedible and must be left to soften.
Once the medlar has become soft, you can eat it raw but this is most definitely not for everyone.
The medlar pulp can be mixed with some sugar and eaten together with some cream or yoghurt. You can also chop the fruit and boil it ready to make medlar jelly or jam. Medlar is often accompanied by some wine, brandy or port.
If you have too much fruit to use all at once, you can freeze medlars to use later. You just need to make sure you use them within a few months!
---
Medlar Fruit Nutrition
It might seem somewhat unappealing to eat medlar in its bletted state but once you've got your head around it, the fruit has a great deal of nutritional value. Just think of medlar like eating stewed apple.
Medlar contains nutrients including:-
Vitamin C
Carotene
Vitamin B
Calcium
Potassium
Iron
Magnesium
Amino acids
Tannins
Pectins
Organic acids
Vitamin A
Medlars can be a source of natural antioxidants and have a healthy amount of protein too.  It is also low in carbohydrates which makes it popular for those following a keto way of life.
---
How Many Calories in Medlar Fruit?
Medlar has 43 calories per 100g serving. It contains 10.6g of carbohydrates and 0.5g of protein.
---
Medlar Health Benefits
We've already listed the stacks of "good stuff" you'll find in medlar fruit but how does this help your body?
Immune System Benefits
Firstly, it's jam-packed with vitamins and minerals which help to maintain a decent immune system. Our immunity has been compromised ever since the pandemic and as a result of the lockdowns we've endured. So it's more important than ever to build it back up – medlar fruit will help with this process.
---
Organ Support
It's believed that people suffering from kidney and liver problems benefit from eating a daily amount of medlar.
---
High in Iron
The levels of iron are good too and iron is essential for our blood so it's important to keep levels up. A lack of iron can be the cause of many ailments including; restless leg syndrome, fatigue, and muscle weakness.
---
Traditional Medicines
Medlar fruit is used in traditional medicines too. It is used as a laxative and in some countries, it's also used to treat high blood pressure.
Throat ailments have been treated using medlar leaves and medlar also assists with bloating and constipation.
---
Fruity FAQ's
What does medlar jelly taste like?
When left in its bletted state, medlar jelly has a sweet taste with a touch of acidity. Some people compare it to the flavour of a toffee apple. The texture is much like any other stewed fruit.
How to eat medlar fruit?
You can eat medlar fruit once they are soft and in a bletted state. They are inedible when they are hard. You can eat them raw with some yoghurt or ice cream or you can include them in some popular medlar recipes. These include medlar cheese, jelly, chutney and marmalade.
Are medlars high in pectin?
Medlars are high in pectin when they are in their original state. Once they start to ripen, the pectin is broken down. Pectin is essential when making medlar jelly as it helps it to set.