Should you have an elderberry tree in your garden, then you will know how they can grow in abundance. You can suddenly find yourself with an impressive glut to be used up.
Once these tiny fruits have been picked, they need to be used fairly quickly. The process to freeze elderberries is easy, making this a good option to preserve your harvest.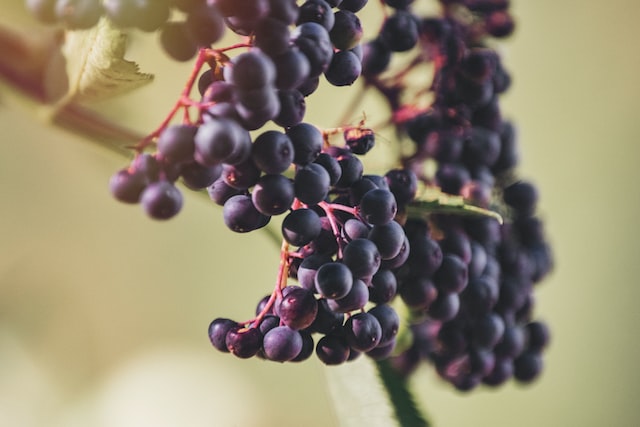 Elderberries are popular in drinks such as cordial and gin but also make great vinegar for salads. You can make some tasty syrups with elderberries too.
They are packed full of healthy vitamins and minerals so a great boost for those autumn or winter months. They make the perfect fruit to have stored in the freezer ready for when you need them.
---
Preparing Elderberries For The Freezer
Once you have picked the fruit from the tree or bush, simply take them inside in their clusters. You do not need to pick them, simply wash them using a colander or by hand in their bunches. You can then let them air dry.
---
Top Tip – Leave Elderberries on their Stems for Freezing
When picking your elderberries, you don't need to remove them from the stems if you find it too fiddly.
Once washed, you can pop them in the freezer still attached to their clusters. They will take up no room at all. It is recommended, once you remove them from the freezer, to pull the berries away from the stalk. Once they are defrosted and squishy this will be more difficult and messy.
---
How To Freeze Elderberries
Elderberries only take a few minutes to prep and freeze. They are also tiny, so don't take up a lot of storage space.
Instructions
Time needed: 10 minutes
Wash and dry your elderberries.

Pop your elderberries in a colander and rinse. You can then gently pat them dry with kitchen roll.

Place the elderberries into freezer bags or containers.

You don't need to remove the elderberries from their stems to freeze. You can trim the stems if you want to make them easier to fit into your container. Don't try to cram too many into one bag. The berries are easy to crush.

Date the berries, and place into your freezer.

That's it, couldn't be easier! Just take out your berries when you are ready to use them.
---
How To Flash Freeze And De-Stem Elderberries
You might prefer to get rid of the stems before you freeze your elderberries.
This is fine, however, it is still best to flash freeze them first to make it easier to take them off their stalks.
To flash freeze your glut of elderberries:
Lay them flat, with their stems, on suitable trays for the freezer.
Pop them in the freezer for a few hours, or overnight.
Remove them from the freezer in the morning.
Pull the elderberries off the stems – they will come off easily.
You can then transfer the loose elderberries to their bags or containers.
Date them and pop them back in the freezer.
Top Tip: Only take out a few bunches at a time if your glut is large as they will thaw quickly. This makes the process harder as they do not come off the stem so well when they are softening.
---
How Long Can You Freeze Elderberries For?
Frozen elderberries will lose taste and quality once they have spent too long in the freezer.
Ideally, you should aim to use up your frozen elderberries within 6 to 10 months. This gives you plenty of time to dream up those fantastic recipes.
---
How to Defrost Elderberries Before Use
Elderberries won't take long to defrost as they are very small.
Simply pop them on the side or in the refrigerator for a few hours. They will need to be used as soon as they've thawed, otherwise, they will go bad.
---
FAQS
Can I freeze elderberry syrup?
You can freeze elderberry syrup for up to 6 months in the freezer. If you portion it up and pour it into ice cube trays, you can get out what you need each time.
Can I freeze elderberries for wine making?
You can freeze elderberries for wine making with no issues. All you need to do is freeze them overnight which helps release their flavours. Then you can destem and use it for your wine recipe.