Let's be honest, nothing warms the soul quite like a steaming apple crumble. They are a firm winter favourite for us Brits. What happens when we have too many apples at one time?
You can make a few and put them in the freezer for later!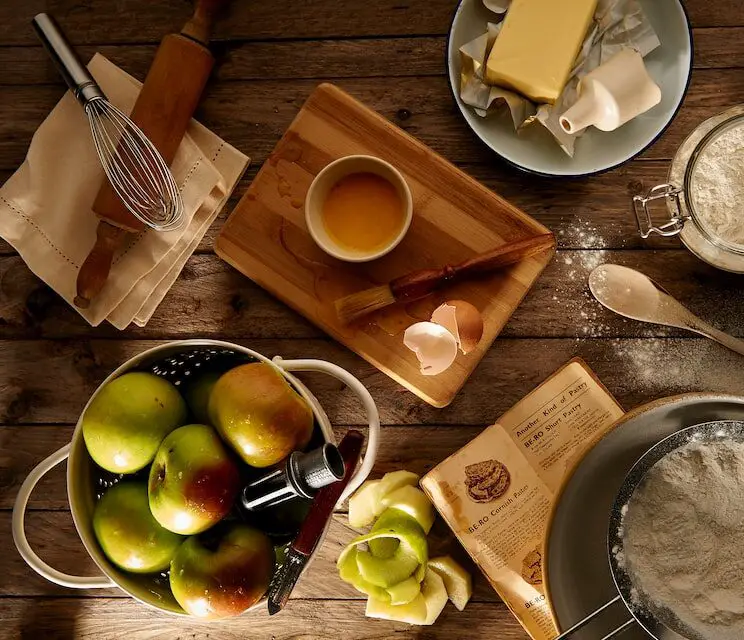 Growing your own apples can be incredibly fruitful (pardon the pun) and we can end up with too many.
If you have accumulated a glut of delicious apples then apple crumbles are the perfect solution. However, we can only eat so much crumble at one time.
We take a look at how you can freeze apple crumble and how best to get it frozen and ready to use later.
---
Making Apple Crumble for the Freezer
Making apple crumble for the freezer is simple. It also has an advantage over pies because there is no pastry to worry about.
You have two options when it comes to making apple crumble for the freezer. The first option is to simply bake your dessert in the normal way. Once it has been baked, pop it to the side and let it completely cool.
Your second option is to prep the apple crumble for the freezer, to bake at a later time.
This is super convenient for those busy days when you don't have enough hours. It also means you can use up less room in the freezer by separating the topping and fruit.
---
---
Basic Apple Crumble Recipe
A well made apple crumble is a delicious treat on a winter's evening. It is also a dessert which is very easy to make, making it great for batch cooking.
We have included a basic apple crumble recipe so you can get prepping straight away. My top tip is to make sure you use high quality butter, and if you want an extra crunch you can add more rolled oats to the recipe.
Ingredients for the Apple Filling
3 medium apples
2 tbsp golden caster sugar
Ingredients for the Apple Crumble
175g plain flour
110g golden caster sugar
110g butter
Ingredients for the Topping
1 tbsp rolled oats
1 tbsp demerara sugar
Method
Preheat the oven to 180℃.
Core and slice the apples.
Pop them into the baking dish and add any spices.
Ideally, the baking dish should be 5cm deep and 23cm wide.
In a bowl add the flour, golden caster sugar and a pinch of salt.
Rub in the butter using your fingers.
Keep rubbing until your mixture looks like breadcrumbs.
Pour the breadcrumbs over the apples and spread them out evenly.
Press down with the back of a spoon to make sure the topping is flat.
Add anything extra to the topping such as rolled oats or some more sugar.
Bake in the oven for 35 to 45 minutes.
Once it is ready, you should be able to put a knife through the apples.
---
Freezing Before or After Baking?
The beauty of apple crumble is that it can be frozen both before or after baking.
This means you can choose how you would like prepare your crumble for the freezer. I tend to use foil dishes with lids to make up whole apple crumbles. I bake them before cooling then freezing them. That way they can be removed from the freezer, defrosted, and baked in the oven. Delicious and low effort!
You can also prep the filling and the crumble and keep them separate. Then, to save on space, you can pop them into bags in the freezer.
---
How to Freeze Apple Crumble Before Baking
Freezing apple crumble before baking is relatively easy. You can make up whole crumbles ready for baking. You can also prepare the filling and topping separately in freezer bags so you can defrost and make up a crumble for the oven.
Follow our step by step guide to freezing apple crumble before baking:
Prepare your apples as you would normally – typically by slicing them.
You can brush lemon water on them to stop them from browning.
Pop the apples on a tray laid out flat and flash freeze.
You can add the spices and sugar at this point if you wish or do this before cooking.
Once frozen, transfer them to a bag or container with the date.
Pop in the freezer, ready for use at your convenience.
Prepare your crumble topping ready.
Pop it into a freezer safe bag and date it.
Retrieve it from the freezer when you would like to bake it.
You can cook it frozen, allowing extra cooking time.
---
How to Freeze Baked Apple Crumble
Baked apple crumbles freeze and reheat very well. All you need to do is bake your crumble as normal. I use disposable foil containers, but you can also get more eco friendly pyrex glass containers with lids. Once baked, just let the apple cruble cool and then freeze.
Follow our step by step guide to freezing baked apple crumble:
Cook your apple crumble as normal.
Allow it to cool completely or use some of it as intended.
You want to freeze it as soon as it has cooled to get all the flavours at their best.
You can portion it up into suitable bags or containers for convenience.
You can also use disposable foil trays to bake your crumble.
If making use of bags, make sure you squeeze excess air out before freezing.
---
Other Tips for Freezing Apple Crumble
To get the most from your frozen apple crumble then take a look at our hints and tips. After all, you want to enjoy every mouthful of your pudding, right?
Pop the date of freezing on the bag or container.
Aim to use the apple crumble within 3 to 4 months.
When using freezer bags, squeeze out any excess air.
Portioning the crumble up into portion sizes will avoid any waste.
You can even write your preferred recipe on the container lid.
Write cooking and defrosting instructions on the crumble lids for convenience.
You can use any containers suitable for the freezer or zip lock bags.
Don't forget that lots of fruits can be frozen and reused this way.
---
How to Defrost & Cook Your Apple Crumble
You've been excited about retrieving that apple crumble out of the freezer, ever since it went in!
Here's how to defrost your apple crumble so you can enjoy it at it's best.
Take the crumble out of the freezer.
Thaw in the refrigerator, overnight ideally.
If it has already been baked, you can cook it from frozen at 180℃.
Bake for around 30 minutes.
You can use the microwave but the texture won't be as palatable.
For the uncooked and thawed crumble, add some sugar to the topping.
Bake in the oven at 180℃ for around 40 minutes.
---
How Long Does Apple Crumble Keep in The Freezer?
You should aim to use your apple crumble within 4 months of being in the freezer.
This is because, after this time, the flavours can become spoiled and not taste so good. Don't be tempted to refreeze once thawed either, it won't taste as nice.
If you find yourself with an unused apple crumble that has gone past its best, pop it outside. The birds and other wildlife won't turn their noses up at it.
---
---
FAQs
Can I make apple crumble filling and freeze it?
It is perfectly fine to make apple crumble filling and freeze it. You can do this with a whole range of fruit, not just apples.
Can I freeze apple and rhubarb crumble?
Freezing apple and rhubarb crumble works well. You can bake and freeze it or make up the raw ingredients and freeze them for baking at a later date.