The apple tree is one of the most widely cultivated of fruit trees. They are deciduous meaning they shed their leaves in the autumn. They are also small reaching just 5-12 m tall. These fruit trees are by far the most common and one of the easiest to establish.
---
About Growing Apple Trees
They normally flower in spring, producing white flowers, sometimes with a pink tinge. Apples are ready to harvest in mid-late autumn, and can be eaten raw, used in cooking and baking, juiced, dried or pressed and made into cider.
If you're looking at buying an apple tree or your garden has one already and you'd some guidance – We are here with a complete guide to growing, buying, and pruning!
Latest Fruit Finds...
See plant deals from top retailers on our site - hit shop!
---
Types of Apple Tree
Apples can be broken down into three main types – cooking, dessert, and cider. When you decide to buy an apple tree for your garden it's important to know what you want to gain from your tree in the years to come. Will you be trying your hand at cider-making? Do you have a love of cooking and want a big supply of apples to cook with? Perhaps you just want to simply enjoy eating them, fresh off the tree?
The answer to these questions will determine which apple type you should opt for. Some apples can exist across several variety types – so for example some of the dessert apples make great cider apples too.
Cooking Apples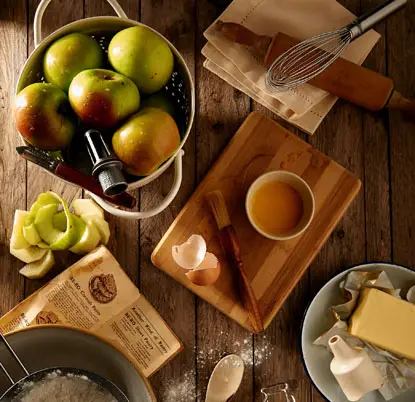 Cooking apples such as Bramleys keep for up to 3 months.
Assuming you are a lover of cooking and baking then a cooking apple tree might just be the perfect choice. Another question to ask yourself is do you want the apples to retain their shape once cooked? Or will you need fruit that purée well?
We've all heard of Bramley apples and they conjure up wonderful images of apple pies, crumbles, and tarts. Bramley apple trees are ready to harvest in the early to mid-Autumn, with picking season starting in late August. These fruits can be stored for up to three months so you have plenty of time to create many tasty recipes.
Short on space? Try a dwarf cooking Apple tree.
---
Dessert Apples
Perhaps you want to grow an apple tree purely to pick from and enjoy the sweet juicy fruit, fresh from the tree? Picnics in the garden with your children having a ready supply of vitamin C at your fingertips sound idyllic? Dessert apples are ready to pick anywhere from Autumn time through to Christmas, as the apple variety "Christmas Pippin" suggests.
A few common dessert apple varieties include names such as Worcester Pearmain, Lord Lambourne, and Laxton's Fortune. With dessert apples it's important to know the taste you enjoy – from mildly sweet to very sweet. Research is key before committing to any apple tree. They are easy to care for but do still need time and hard graft.
---
Cider Apples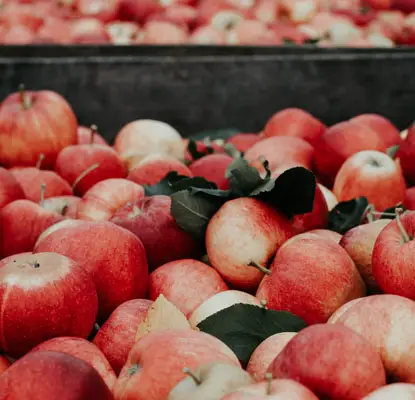 Ah, nothing says summer quite like a crisp, cold glass of the finest cider. If your apple tree is being planted for the purpose of producing cider then it's very important to do your homework first. Of course, as well as being suitable for cider, these apples are also great for eating fresh too.
Cider apple trees include names such as; Greensleeves, James Grieve, Ashmead's Kernel, and Tickled Pink. These trees, once established, typically harvest mid to late in the season. Christmas gifts in the making perhaps!
Our guide to the most popular UK apple varieties breaks down the most popular cultivars in these three broad apple types.
Apples For Small Garden Spaces
Having a very small garden, or even no garden at all does not mean that you won't be able to grow apples. It's possible to grow a crop on a small patio, with dwarf trees planted in pots. All you need is a nice sheltered spot with enough space for a 40cm pot to enjoy your very own fresh, crisp, and juicy apples.
Our guide to patio apple trees gives an overview of how to grow apples in a patio garden, as well as recommendations of the most popular apple varieties to grow in pots. You can also look at a dwarf apple tree for smaller orchard spaces.
---
How To Grow Apple Trees
Apple trees can be grown in orchards, large pots, or trained as espaliers along a wall or trellis. If you want to grow your own apples, you will need at least two trees so they fertilise each other and produce more fruit.
There aren't many flowers in bloom in early spring when the apple trees are in blossom, but it's a good idea to plant primroses and rosemary in your garden to attract early bees and other pollinators, who will pollinate your apple flowers and increase your yield. There are self-fertile varieties, however, such as Jonagold, if you are short of space.
Growing Apples & Late Frosts
A common problem for apple growers is a late frost that destroys the flowers and therefore prevents them from turning into fruit. It is best to plant the trees on a slope or against a wall to help prevent it from frost attack. You could also try growing a frost-resistant variety such as Court Plendu Plat, which is known historically as 'the wise apple' because it flowers late and avoids the harshest frosts.
If the frost is not too severe, the tree can be sprayed with very cold water before the morning sun hits the flowers. This helps the cells within the flowers re-adjust to the warm temperature easier, and can help save your crop.
When To Plant Apple Trees
Bare root trees should be planted in autumn or winter so they can get fully established in spring. Container grown apple trees can be planted at any time of the year. However, winter is the best season for this job. That said, you'll need to wait for a dry day. Planting shouldn't be attempted in waterlogged soil, or if the ground is frozen.
Where To Plant Apple Trees
Apple trees need a position in the garden with plentiful sunshine and adequate shelter. Soil should be well-drained and preferably higher up to avoid those frost pockets. You should also ensure that the area you are planting in has at least 2ft of top soil. Most gardens are suitable for apple trees. You just need to decide whether to opt for free-standing, a potted tree, or one that will grow along your trellis.
How To Plant Apple Trees
Make sure to dig over the soil surrounding your planting area well to ensure the tree can get established. Ideally loosen the soil a few days before you plant out your fruit tree. Dig down at least one spade depth for the best results.
You'll then need to dig a hole ready for your tree. Unless your soil is very poor, do not use any fertiliser or compost. Once your tree is in, you'll need to add a growth support. Once done, apply a bucket of water and mulch well. Keep the tree base clear of grass and other vegetation.
Apple trees should fruit within 2 years. Apple trees are normally sold as either one or two year old plants. If you want your tree to produce fruit sooner, it's best to opt for a two year old tree.
Apple Pests & Diseases
Like most fruit trees, apples suffer from insect pests and diseases. It's important to be aware of the symptoms of infestation on your tree. With awareness, these can be managed and treated without suffering loss to your crop. Our guide to common apple tree insect pests gives an overview of the most common insects and tips on how to spot the symptoms of infestation.
---
How To Prune Apple Trees
Pruning your apple tree during the right times of the year will contribute to the successful growth of fruit. Pruning is essential to the overall health of your tree and by removing any diseased branches you are maximising the energy the tree has available. This in turn produces the best fruit possible.
Top Tip: If you can stand under your apple tree and be in complete shade then you have not perfected the art of pruning it just yet. A well-pruned apple tree should have lots of sun and light coming through its branches.
---
Prune in the first month of spring once frost has gone. You can carry out further pruning later in spring and again in the early summer.
Don't prune during Autumn as this may encourage new growth which will then be killed over the winter months.
Avoid heavy pruning until the tree is around 3 years old. It needs time to establish itself properly.
The first pruning you do will give it the shape it needs so do this slowly and carefully. You want a pyramid structure to your tree with a wider bottom.
Decide which branches will be the scaffold branches and choose anywhere between 2 to 6 of these depending on the size. Cut off the rest with clean cuts, flush to the trunk.
Scaffold branches should have a 45-degree angle so they have the strength needed to hold the fruit once grown.
Remove any shoots growing from the trunk, also known as shooters. This will help maintain a nice shape for your tree.
Diseased branches can be removed any time of the year.
---
When To Harvest Apples
Aside from seeing apple trees thrive and develop, the next best thing is picking our own fruit and eating it surely? When is it best to harvest those apples and how do you know they are just right and ready for consumption?
When to harvest your apples depends on the variety of apples you are growing. Earlier varieties will be ready by the end of August, others will be ready to pick in November. However, the majority of apples are ready to harvest in October.
---
Apple Tree FAQ's
Got some questions? Don't panic, we have covered some of the most commonly asked questions about growing apples below.
How Big Will an Apple Tree Grow?
Different apple trees will grow to varying sizes but you should expect one to grow from anywhere between 6 feet and 30 feet tall. There are three categories for apple trees: standard, semi-dwarf, and dwarf. Clearly, the space you have available will be the deciding factor on the type of apple tree you opt for.
How Fast Do Apple Trees Grow?
Speed of growth largely depends on the type apple tree you have. Generally speaking, the smaller apple trees will produce apples in about 3 years from being planted. The bigger ones can take up to 6 years.
How Do You Pollinate Apples & Do You Need Two Apple Trees To Produce Fruit?
To be successful in growing apples in your garden, you'll usually need two trees so that they can fertilise each other for best fruit production. However, this is not possible in every garden, and does not mean you can't get a crop with a single tree. Apple trees blossom earlier than other spring trees and plants but there are some plants you can grow alongside your trees for the bees to pollinate. A few examples are; rosemary, primrose, crocuses, heather, and bluebells.
How to Grow Apple Trees From Seed
Apple seeds need to be chilled for 6 weeks before planting, to ensure they are dormant. Pop them in a moist paper towel and then a plastic bag, allowing a little air in. After the 6 weeks is up you may find they have already started to sprout. If the weather is still on the chilly side you might want to plant in pots inside to give them the best start. If it's warmer weather now then they can be planted directly outdoors.

Like most perennial fruits, apple trees are propagated by the grafting a cutting of an existing variety on to the root of a new tree. This is because you can't guarantee that a tree grown from the seeds of an apple will be the same as its parent tree. Growing apple trees from seed can result in brand new cultivars, however, so many breeders deliberately cross-fertilise specific varieties to produce new breeds.
Do Apple Trees Blossom Before Leaves Grow?
Apple trees start to blossom in April and May. The leaves begin to appear in early spring, followed by the flower buds and blossom in late spring. The exact time this happens every year will vary depending on eather patterns.
---
Further Reading