Patio apple trees are a great option for anyone who may not have a garden with acres of space, or the ability to plant extensive fruit gardens. Fruit trees don't necessarily need big grassy gardens, in fact, they can thrive just as well on patios or other small areas you have available to use. Fruit trees that can be grown in pots are the perfect solution for those of us without green spaces or those perhaps not able to cope with the upkeep of a large tree.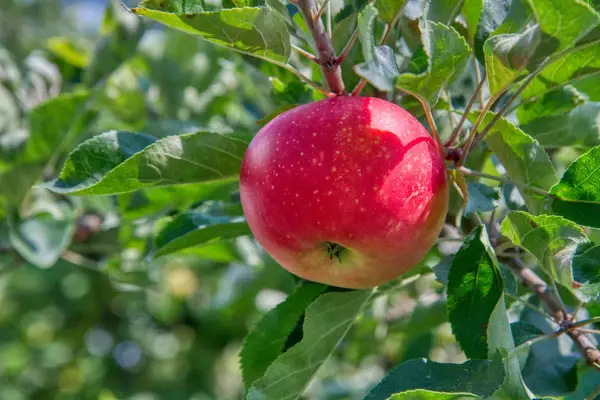 Latest Fruit Finds...
See plant deals from top retailers on our site - hit shop!
---
Patio apple trees make an excellent choice of tree to grow from a more modest space such as a patio or balcony. The colours and smells they bring are a real treat and will brighten up your patio area marvellously. They are compact, strong, and under the right care will provide you with wonderful juicy apples. You can have a crop after just 2 years in some of the patio apple tree varieties on the market.
Potted trees won't reach the dizzying heights of ground-planted apple trees so there's no need to worry about your sunlight being blocked. Dwarf trees have been designed with patios in mind and make a lovely addition to your outside space. Patio apple trees grow to a maximum height of 2 metres and as long as they are well watered they will crop successfully over the years.
---
Best Patio Apple Tree Varieties
Maybe you've got your heart set on a patio apple tree but now you must decide which apple variety to choose? There are many to choose from and of course, you want to pick the right one for you. Below we've shared the most popular potted apple varieties with UK gardeners and we've included their key features.
---
Cox's Orange Pippin
Malus Domestica, better known as Cox's Orange Pippin, are popular among gardeners due to their decorative look and juicy taste.
These apples make wonderful dessert apples and once they start to grow their red and orange colours look spectacular. Your patio or small garden is the perfect location for a pot-grown cox apple tree.
Best Feature: Considered the tastiest eating apple.
When To Plant Out: Year-Round
Harvest Fruit: Aug-Oct
Best Growing Position: Full Sun & Part Shade
---
Red Falstaff
One of the newer apple varieties, Red Falstaff apples are attractive and great-tasting with their delicious crunch appeal.
These apples produce wonderful shades of reds and yellows which will certainly brighten up any patio area. It's comparable to Golden Delicious in regards to its taste.
Best Feature: One of the heaviest-cropping varieties.
When To Plant Out: Year-Round
Harvest Fruit: October time
Best Growing Position: Full sun & part shade.
---
Bramley
Perhaps one of the more well-known apple varieties, Bramley apples are perfect cooking apples. From apple sauce to go with your pork, to the perfect apple for sweet pies – Bramley apples offer such versatility.
These potted trees will make a stunning addition to your preferred space.
Best Feature: Ideally suited to pots.
When To Plant Out: Late spring & early summer.
Harvest Fruit: Mid-October
Best Growing Position: Full sun & part shade.
---
Patio Apple Tree Care – A Guide To Container Growing
As well as adding colour to your patio space, growing apples in containers has so many other benefits. They are, of course, loved by pollinators and with many being self-fertile everything takes care of itself. Your reason for opting for a container-grown apple tree might be space-related, mobility-related or you just prefer a smaller tree.
It's not complicated to grow mini apple varieties, so here's our top tips for patio fruit success!
Pot Size: 60cm diameter
Compost: Good quality, well-drained soil combined with compost.
Watering: Twice a week, daily when hot.
Feeding: Mulch placed on top of soil keeps moisture in.
Rootstock: Dwarfing rootstocks
---
Common Patio Apple Tree Problems
All plants, shrubs, and trees fall victim to problems or pests at some stage and patio apple trees are no exception. We shall touch on the main problems they face below.
Apple Scab: this is a type of fungus that grows on fruit trees including apples and pears. The name is derived from the scab-like marks found on the fruit from mid-spring onwards. Regular pruning and good garden hygiene should keep this problem from becoming widespread.
Aphids: these insects live off the sap that the apple tree produces. They can be spotted quite easily and can stunt the growth of your fruit tree. It's important to keep an eye on your tree from spring onwards and control can include other insects and birds.
Drying Out: this problem plays a huge part in many patio apple trees growing successfully. Container-grown apple trees need a lot more water than normal trees and are more at risk of drying out. During peak season, you will need to be prepared to water daily.
How To Prune Patio Apple Trees
While it's young you won't need to do too much pruning so the first few years will be about keeping the tree tidy. Pruning should take place during its dormant months so between November and March. Your aim with pruning is to create an open framework with no crossing of branches or signs of disease. When cutting back mature branches, make the cut next to an outward-facing bud. A slanted cut will stop the rain from collecting and it will simply drip off. Aim to encourage lots of light and air circulation as this will be what produces a healthy crop of apples.