They seem like an exotic import, but growing goji berry plants in the UK is very achievable. They're the latest 'must have' miracle berry in celebrity circles. Said to banish cellulite, boost your immune system, contain more vitamin C than oranges and more iron than steak, this Himalayan berry is quite a catch.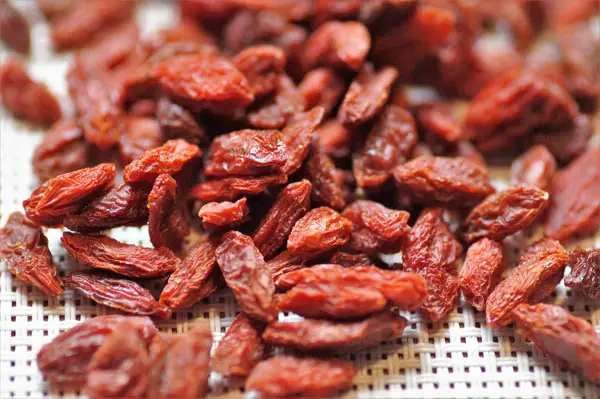 There's one problem with regularly eating Goji Berries, they're very expensive to buy. Good news then, that these little red berries can be grown in the UK's climate easily, and you can eat piles of fresh goji berries from your very own plant throughout the summer months by growing just a few small bushes.
---
Latest Fruit Finds...
See plant deals from top retailers on our site - hit shop!
---
About Goji Berry Plants
Goji berry plants are deciduous, hardy, and have heightened in popularity over recent years. This popularity has a lot to do with celebs swearing by goji berries to reduce their cellulite and boost their overall health. They are easy to grow too – even for amateur gardeners with not much experience to call upon. Goji berries can be eaten raw straight from the tree, made into smoothies, brewed in teas, or added to breakfast dishes.
By year two of planting your goji bush, you can expect to see fruit growing on it – up to a kilo of it. That's a lot of berries in a young tree! You can expect the biggest yield in around the fourth year. These Himalayan plants are tough in winter and produce lovely white or purple flowers in early summer. By the autumn time these berries are ready to harvest and provide spectacular colour in any garden. These bushes can reach heights of around 3 metres.
Growing your own goji berries is not only kinder to your wallet; it's kinder to the environment too. They are now commercially grown in China, Mongolia and Tibet. The food miles involved in shipping them over to health shops in the UK are quite substantial, so if you have room for a bush or two in your garden or on your balcony, there will be a wealth of benefits involved.
---
How to Grow Goji Berries
Once established, goji berry plants are incredibly easy to grow. They'll grow in almost any type of soil, and can even thrive in poor soil, as they are used to the mountainous regions in the Himalayas. They are reasonably drought-tolerant, and will even grow in partial shade (though you'll get more berries from them if you grow them in full sun).
You can grow them from seed, or buy them as young plants. Buying young plants is far easier, as goji berry seeds are prone to rot in the compost and you're less likely to get good results. The seedlings also need to be kept in warm conditions for 12 months, so for practical reasons, buying young plants is the more sensible option.
Once they're a year old, however, they are perfectly winter hardy. Unchecked, they grow into a thick bush that reaches up to three metres tall, with vines that can grow to nearly four metres. If regularly pruned, they will form attractive small bushes that produce more berries as a result.
---
How Long Do Goji Berries Take To Grow?
When your plants first arrive it is likely they will just look like bare twigs with some roots on. Don't worry, this is normal. If planted straight away and watered well they will grow leaves within two-three weeks.
---
How To Plant Goji Berry Bushes
Despite being very easy to grow, it's a good idea to follow a few simple tips to give your plants the best possible start in your garden. This will maximise yields and speed up the process of getting your first berry harvest.
Dig a hole around 50cm deep and wide and place the goji berry plant in it.
Firm the soil around the plant and water well.
Leave about 1m between plants and mulch the area around the stems with leafmoluld or garden compost to keep the soil moist and well-nourished.
You can even grow the bushes into a goji berry hedge; simply plant them 1m apart in a straight line.
---
When To Plant Goji Berries
You can plant your goji bush in early spring when most of the cold harsh weather has dispersed. They are a hardy plant but it's wise to plant young bushes once the frost has gone.
Where To Plant Goji Berries
Your goji bush will thrive in a sunny and sheltered spot although they can also tolerate some shade. They prefer well-drained soil, preferably with added mulch.
Pruning & Training Goji Plants
You have a few options when it comes to growing goji berries. You can grow them in containers, straight into the ground, or you can train yours to grow as a hedge.
To prune your plant, you should remove any dead or damaged branches so all energy is focused on growing the healthy ones. Pruning the stems themselves will encourage a healthy yield and will also allow more light to enter the bush.
---
When To Harvest Your Goji Berry Plant
Goji berries are ready to pick when the fruit is a deep red colour – usually late summer and throughout autumn. You can turn the berries black when handling so keen gardeners prefer to shake the berries onto a sheet placed under the bush.
After two years the bushes will start to fruit, and from four years you'll start to get very heavy yields. In early summer the bushes will produce small, delicate, trumpet-shaped flowers that will be either white or purple. Both coloured flowers can feature on one plant, so they provide visual interest before the berry production begins.
The berries will begin to set in autumn. The ripe fruit are sweet and juicy and almost shiny in appearance. The flowers will continue to bloom right up until the first frosts, however, so your plants will be red, white and purple throughout late summer and autumn.
They are beautiful to have in your garden, delicious, nutritious, and cheap and easy to grow. If you want health-boosting berries on tap you should consider investing in a goji berry bush or two.
---
Growing Goji Berries in Pots
You will need to choose the correct sized container if you opt for a pot-grown goji plant. You will need one with a diameter of at least 18 inches and it needs to have drainage holes in the bottom. Ideally, you should feed with a fertiliser regularly during its growing season.
Goji Berry Plant FAQ's
How Fast Will Goji Berries Grow?
You will have fruit growth after two years of planting which is pretty remarkable. By year 4 you will have an abundance of berries.
Are Goji Berries Self Pollinating?
Goji berries are self-fertile so only one plant is needed for pollination to occur. If you do plant more than one don't plant them too close together as they spread well.
When Do Goji Berries Flower?
Goji berries will flower during the early summer months where you will see trumpet-shaped flowers in white or purple. Some plants produce both white and purple which look stunning.
How to Grow Goji Berries From Seed?
It's advisable to avoid growing goji berries from seed as they often fall victim to rotting in the soil. If you do decide to attempt seed growing then start the process indoors.
How To Grow Goji Plants From Cuttings
You can take softwood cuttings during the summer months or hardwood cuttings during the winter months. Cuttings should be at least 4 inches long and each cutting should have at least three sets of leaves. The ends should be dipped in a rooting hormone and then potted and wrapped in a plastic bag. They should be placed in a well-lit room with plenty of natural light and intermittently remove the bag. Plants should be grown indoors over their first winter.
How Often To Water a Goji Berry Plant?
Goji berry plants should be watered thoroughly but they don't need watering every day. Some mulch helps to retain moisture.