There are more than 7,500 known apple varieties, 2,500 of which were developed in the UK. The world's biggest collection is housed at the National Fruit Collection at Brogdale farm in Kent. There are three main types of apple tree, each producing either: dessert, cooking or cider apples.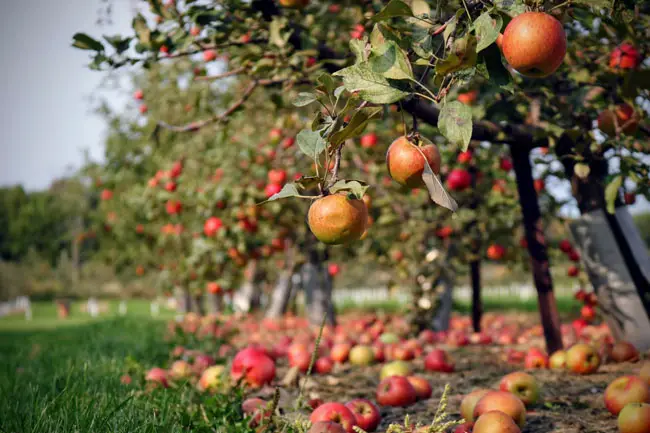 Over the years the variety of apples commercially available has diminished. Customers have been left with a poor choice in supermarkets that tend to be chosen for their storage ability rather than their taste. English varieties are some of the tastiest varieties of Apple available, with a crisp, fresh taste and wonderful exuberant names to match.
Which is your favourite apple to bite into? Most of us probably know there are many apple varieties even if we only know this through our local market or store. Did you know, however, there are three main classifications of apple trees summed up as; dessert, cooking, or cider apples. We round up the most popular UK apple tree varieties below.
Latest Fruit Finds...
See plant deals from top retailers on our site - hit shop!
---
English Dessert Apple Varieties
Dessert apples can be enjoyed fresh from the tree. If you love juicy, fresh, sweet eating apples to enjoy during the autumn months? Depending on the variety, you can harvest dessert apples from early Autumn all the way through until Christmas.
Worcester Pearmain
As the name suggests, Worcester pearmain apples originated in the city of Worcester during the 1870s. You can find them to pick mid-September time and they are easily identified by their uncial strawberry flavours. These apples make great garden apples and are super tasty too.
Lord Lambourne
A crispy sweet flavour awaits you when you bite into a Lord Lambourne apple. It's typically round, with orange and green skin and white middle. This apple was introduced in 1907 and is easily grown in gardens in the UK. It appears earlier in the season than some of the other apple varieties.
Egremont Russet
Dating back to the Victorian era, Egremont Russet apples are perhaps more commonly known by only apple lovers themselves. It has dry flesh and the skin feels rough to the touch. These apples are a golden yellow in appearance and are not the juiciest of the apple varieties.
Cox
Without a doubt, cox apples are one of the more widely known dessert apples. These apples are flavoursome and are red and orange on the outside. It's very much a traditional English apple but can be notoriously difficult to grow in gardens.
---
English Cooking Apple Varieties
Cooking apples keep for up to three months after harvest in the Autumn months. They are usually ready to pick from the end of August until October. The ease of storage means you can enjoy the fruits of your labour right into the winter months. Apple pie – delicious!
Bramley's Seedlings
One of the more popular cooking apples is the Bramley Seedling. Popular due to its delicious flavours and intense acidity, it makes a lovely cooking ingredient. It's an apple that can be puréed very easily and never fails to disappoint. They are mainly green in colour with hints of red too.
Catshead
This apple variety is arguably one of the oldest known in the Uk and its name comes from the shape resembling that of a cat's head. It's juicy and acidic and has all the qualities needed to make it a reliable cooking apple.
Allington Pippin
The Allington Pippin has been around since the 1870s and was first produced by Thomas Laxton. The flavour has hints of pineapple and the colours are made up of reds and oranges. This fruit can be stored for a longer period of time than many others – up to 3 months.
---
English Cider Apple Varieties
If you've ever fancied brewing up a storm, a cider apple could be the right choice for your garden orchard. Cider apples are versatile in that many of them are also great for eating fresh. Cider apples are ready for harvest from mid to late Autumn. This means you could be picking cider apples from September until almost Christmas!
Brown Snout
This apple has its origins deep in Herefordshire and the name is derived from the brown appearance of this fruit. To this day, it remains a popular cultivator in cider-making. It is classed as a bittersweet apple and has quite high levels of tannins.
Brown's Apple
The Brown's Apple is dark red, juicy and can be described as having a crisp flavour, perfect for cider-making. This is an apple traditionally used in ciders – its tangy taste providing the perfect qualities for a refreshing drink.
Crimson King
A traditional cider cultivator with origins in Somerset, Crimson Kings are popular in the West Country. It's a medium to large apple, with a sharp taste and high in acidity. These grow quite late in the season and produce gorgeous purple leaves.