Growing Avocados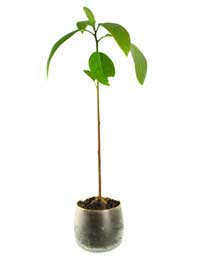 While avocados are a tropical fruit more suited to the humid regions of Mexico and Central America, it doesn't mean they can not be grown successfully in the UK. The trees can grow to up to 20m and can take up to 10 years to fruit.
If you want to grow an avocado tree, it's best to raise it as an indoor plant. The trees don't tolerate freezing temperatures. They can grow outside in the far south of England, and have even grown fruit in some years, but you'll get better results if they're grown in large pots indoors.
Germinating the Seed
Avocado stones take a long time to germinate. If you already have a garden and a compost heap, you may have noticed avocado stones germinating inside the heap. This is because the heap provides the ideal hot and moist conditions for germination. There are alternative methods, however, if you don't fancy rooting around your compost heap:
pierce the seed with toothpicks and suspend it, pointed end up, over a glass of water. Roots should start to develop within two to six weeks. Then pot up the plant, leaving the tip just poking out of the soil. However, not all avocado seeds will germinate, so if your seed hasn't sprouted after six weeks, try again with a fresh seed
leave the seed in direct sunlight until it starts to split. Then pot it up
place the seed in a pot, and cover it completely. Water well, allow to drain and leave in a warm, dark place, such as an airing cupboard. Check on the pot every week to ensure it is moist, and water if necessary. As soon as the shoot starts to show, move the pot to a sunny spot, such as a windowsill
Always use a pot with approximately a 12cm diameter. Use a rich, peat-free potting compost and ensure the pot has good drainage. After your plant is roughly 30cm tall, cut it down to around 15cm. This makes the plant grow bushy, rather than tall. Once your plant has filled its pot with roots, transplant it to its permanent home – the largest pot you have room for. Fill with rich, peat-free compost, which you should top up with fresh compost each year.
Flowering and Pollination
Avocado trees can take up to ten years to bear fruit and indoor-grown plants don't always live that long. However, if you provide it with a moist, fertile soil and plenty of sunlight, and keep it in humid conditions such as a greenhouse or conservatory, your tree will have a fighting chance of fruiting.
An old gardeners' trick in the southern hemisphere to encourage the plant to flower is to treat the tree roughly. When it is of a decent size, (no smaller than 1.5m), attack the trunk of the tree with a knife, or sharp implement. Make sure you don't damage the tree so it can't grow properly, and only cut the surface of the bark – never make big cuts in it. The stress brought on by this attack is said to shock the plant into flower, where it will then hopefully bear fruit.
If the plant is indoors and it flowers you will need to pollinate them in order for it to fruit. Keep a window or door in the greenhouse or conservatory open to let bees in to pollinate it, or move the plant outside – if you can – on sunny warm days.
Regardless of region, avocados are not easy fruits to grow. However, the trees make an interesting addition to the conservatory or greenhouse and you'll never tire of trying to make it flower. If you are lucky enough to get it to bear fruit you'll be rewarded with delicious, fresh avocados and all your hard effort will be worth it.
You might also like...
@Flynn - Well-aerated and loose soil is the best for avocados i.e limestone and sandy loam. Thebest pH range for a successful tree ranges between 6 and 6.5. Compacted soils will halt root spread and this can start root rot. In fact slightly dry conditions are best for the avocado. Salts are a problem too yes. It's always difficult to determine. But if your tree has been root bound, this can cause problems. They can often seem worse after repotting. No answer sorry as it's a bit of a minefield.
TimJ
- 16-Jul-18 @ 3:23 PM
I've managed to grow about 10 from the stone, potted them and then put them outside on a patio table. Unfortunately two of them were knocked off, ended up on the floor with the stalk broken off and the stone was missing. Could a squirrel have decided to have the stone for supper? I've now moved all the others and they are doing nicely. I only potted them in small pots, will I need to replant them into bigger pots? And how big should the pot be? Some are about 15 inches high, others are only about 10. The diameter of the pots I've got them in are about 4 inches.
KittyJay451
- 14-Jul-18 @ 8:07 PM
I've repotted it today as it was root bound.Keep reading about salt concentrations being high for brown leaves.It's indoors and growing it's just the brown leaves
Flynn
- 13-Jul-18 @ 9:10 PM
@Flynn - could be lots of reasons underwatering, overwatering, disease. Is it in a pot? If so it could be root bound. Would need more info.
JamieBl
- 13-Jul-18 @ 2:50 PM
Mine is about 1 year old60 CMs and the leaves are browning badly.What can I do please?
Flynn
- 13-Jul-18 @ 1:48 PM
@mum2-4 - especially with the great summer we've had so far. It's off to a good start. I have one - it's now at around 2ft tall. Fingers crossed.
Leo.
- 12-Jul-18 @ 11:41 AM
I've been growing an avocado plant(outdoors) for two years, I started from stone.Surprisingly it has managed to survive two winters and this year was really bad, it did take a bashing, but has survived and with no fleecing or anything else to protect it. Keeping fingers crossed that it'll keep growing.
mum2-4
- 10-Jul-18 @ 11:23 PM
@none - have they cut that tree down? How sad. I recall seeing it a few years ago in fruit. It's always a gamble planting it outside. But the stronger you can get it, the better your chance of success. East Sussex is pretty warm, so go for it!
CooCH
- 25-Jun-18 @ 12:53 PM
I live in East Sussex and am planning to plant an avocado plant I am growing outside. It's currently about a year old. From what I read above I am guessing it needs to be about five years old and in a large pot before I can reasonably expect to successfully transplant it outside. Is that about right? I got the idea when I came across a fruiting avocado tree off Ladbroke Grove in London, since cut down.
none
- 23-Jun-18 @ 8:45 PM
@Ray - yes they must be because the beast from the east has killed a lot of plants in my garden this year. At least in the greenhouse they are still protected from the worst of the weather.
ShO
- 11-May-18 @ 12:49 PM
I grew two plants summer of 17 using the cocktail stick method. They are in an unheated greenhouse. Went on holiday in February to get winter sun and returned the same day as the beast from the east arrived. One is definatleydead however the second is sprouting new shoots and is very much alive. They are more hardy than people realise.
Ray
- 10-May-18 @ 6:08 PM
@emmaq - you can leave it out - but if you do make sure it is protected as any cold snap can affect the tree, especially if it is young. If you are going to leave it out, put the pot on plant feet and protect the pot with a protective frost blanket. If it gets really cold, just bring it in for a few days if it's practical for you to do this. Just keep an eye on it. If you're on a roof balcony, find the most sheltered and sunny site.
TimJ
- 20-Nov-17 @ 11:00 AM
Similar question to @AvoQueen.I have a small plant grown from seed on my roof in London in a pot.It has about 8 leaves atop a long stem about 2 foot high.Should I bring it in over winter or risk it being out?Should I cut it down to get it to be more bushy?Advice please thanks!
emmaq
- 19-Nov-17 @ 10:28 AM
@Avo Queen, I don't think I'd cut the leaves off as you haven't got a plant then!
MashedAvo
- 12-Oct-17 @ 3:08 PM
We have a plant which has grown to about 40 cm's.It has no leaves at all on the bottom half.I read in an earlier thread that once the tree gets to 30 cm's or so you should cut it down to 15cm to make it bushy.I am very nervous about cutting all the leaves off!!! Advice please.
Avo Queen
- 10-Oct-17 @ 7:51 AM
I have 5 that sprouted in my compost. Delightful fresh leaf shades. I've been eating the young leaves as they are more nutritiousthan the fruit or stone!
@Nita - you've inspired me to grow one now. I'm going to have a try! Avos are ace. Liah.
LizzyLi
- 28-Sep-17 @ 3:35 PM
It took just over 2 yrs for my tree. To get to 5ft.Just starting to flower it will be bought in from .y balcony soon and in nr my patio door .
Nita
- 27-Sep-17 @ 11:18 PM
I have grown a tree it's about 5feet high. Grew it in a a.small pot indoor for 2yrs now out on my little balcony. And started to. Flower. White ones I think?. Put a plastic bag over the soil. It keeps moist n warm. Is A lovely plant. I pull the big leaves off and new ones come. I put small cuts inthe stem .
Nita
- 27-Sep-17 @ 11:10 PM
@Nic - haha, it's always the way! Shelter it from frosts and you should be fine. The Kent weather is usually clement enough...but you at least want it to be established enough to be a bit more rugged.
Joss
- 18-Sep-17 @ 4:01 PM
After being frustrated at failing to grow my avocado seeds indoors for a year,this summer I justput them outside in disgust, in dirt in pots.South facing front garden in Kent.Well I just noticed one has sprouted about 12 inches! What do I do with it? It's in a very sheltered spot between the house and nestled against a wall and other potted plants. Lots of sunlight from the top. Can it acclimatise to being outside? It's still there and doing fine. Any advice gratefully received.
Nic
- 16-Sep-17 @ 3:04 PM
@funkey - the compost obviously helped and it's on a mission to grow. Just make sure you protect it from cold weather and or any frosts. Are you in a warm part of the UK or cold?
Melissa78
- 14-Sep-17 @ 12:30 PM
Ihave an avocado which grew in my compost heap. I cut the shoot off which was about two feet high. I replanted indoorrs and it grew again to about twelve inches. I then planted it outside where it is now over three feet high wth several branches. Reading the remarks on this page I have done everything wrong but it is still growing. I just hope it survives the winter because it has become my baby.
funkey
- 13-Sep-17 @ 5:08 PM
Bill - Your Question:
I live in Edinburgh and have two one year old avocado plants which I have in clay pots, indoor. I germinated the cores suspended by cocktail sticks in a glass of water and the plants are now around 4ft and 2ft tall. The shorter one is really bushy and has three new branches whilst the talker one is just shooting up. I would love to plant them outside but I don't reckon they'd last long. Maybe time for a new conservatory!
---
Our Response:
Excellent, keep doing what you're doing. But I think planting them outside in Scottish weather is a sure-fire way to kill them off.Avocado trees do best at moderately warm temperatures (60-85F) - but do not like cold weather, especially frost.
FruitExpert
- 11-Sep-17 @ 4:04 PM
I live in Edinburgh and have two one year old avocado plants which I have in clay pots, indoor. I germinated the cores suspended by cocktail sticks in a glass of water and the plants are now around 4ft and 2ft tall. The shorter one is really bushy and has three new branches whilst the talker one is just shooting up. I would love to plant them outside but I don't reckon they'd last long. Maybe time for a new conservatory!
Bill
- 9-Sep-17 @ 5:44 PM
My local asda is selling young avocado trees along side sweet passion fruit vines for £6, and it says they are for planting outdoors!? I am thinking of getting one and giving it a go, its no great loss if it doesn't survive. I live in Leicestershire, its never too cold but not that warm either in the winter. My garden is southfacing.....any advice please? Thanks.
Prits
- 13-Aug-17 @ 12:07 PM
@Nita - 5ft is a pretty good size for a pot. East Sussex gets the weather - so it helps. My tree is currently about 30cms and I live in the SW. How long did it take to get to 5ft? Yours, in hope!
Maus
- 3-Aug-17 @ 1:44 PM
My tree ls about 5ft tall I leave it out in a. Massive pot on my balcony. It likes the ruff outdoor .. I live in eastsussex.
Nita
- 2-Aug-17 @ 3:25 PM
Avocado novice- Your Question:
I successfully grew a shrub 3 years ago - just as a fun experiment. Now up to my waist. It was really hit hard by the frost last winter. I trimmed it down and it is thriving due to great weather we have had in the south east this summer. It is far too big to bring in the house over winter. Does anyone recommend a covering I can use? I now have my second one that has just taken and is 8 cm tall. Is it best to bring it in to the house in October? Thanks
---
Our Response:
Frosts are the main enemy. Plastic can be used to protect plants from frost, but it's not the best or most effective material as it does not breathe so can cause moisture to get trapped inside. Natural fabrics like cotton or linen, an opened burlap bag, or newspaper, as a covering to protect plants from frost. Bed sheets can work well temporarily. You can also buy frost protection jackets online or from your local garden centre. Well done for getting this far and good luck!
FruitExpert
- 25-Jul-17 @ 12:59 PM
I successfully grew a shrub 3 years ago - just as a fun experiment. Now up to my waist. It was really hit hard by the frost last winter. I trimmed it down and it is thriving due to great weather we have had in the south east this summer. It is far too big to bring in the house over winter. Does anyone recommend a covering I can use? I now have my second one that has just taken and is 8 cm tall. Is it best to bring it in to the house in October? Thanks
Avocado novice
- 24-Jul-17 @ 7:58 PM