Growing Avocados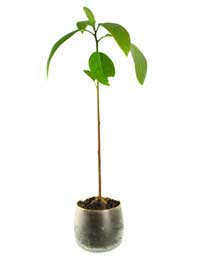 While avocados are a tropical fruit more suited to the humid regions of Mexico and Central America, it doesn't mean they can not be grown successfully in the UK. The trees can grow to up to 20m and can take up to 10 years to fruit.
If you want to grow an avocado tree, it's best to raise it as an indoor plant. The trees don't tolerate freezing temperatures. They can grow outside in the far south of England, and have even grown fruit in some years, but you'll get better results if they're grown in large pots indoors.
Germinating the Seed
Avocado stones take a long time to germinate. If you already have a garden and a compost heap, you may have noticed avocado stones germinating inside the heap. This is because the heap provides the ideal hot and moist conditions for germination. There are alternative methods, however, if you don't fancy rooting around your compost heap:
pierce the seed with toothpicks and suspend it, pointed end up, over a glass of water. Roots should start to develop within two to six weeks. Then pot up the plant, leaving the tip just poking out of the soil. However, not all avocado seeds will germinate, so if your seed hasn't sprouted after six weeks, try again with a fresh seed
leave the seed in direct sunlight until it starts to split. Then pot it up
place the seed in a pot, and cover it completely. Water well, allow to drain and leave in a warm, dark place, such as an airing cupboard. Check on the pot every week to ensure it is moist, and water if necessary. As soon as the shoot starts to show, move the pot to a sunny spot, such as a windowsill
Always use a pot with approximately a 12cm diameter. Use a rich, peat-free potting compost and ensure the pot has good drainage. After your plant is roughly 30cm tall, cut it down to around 15cm. This makes the plant grow bushy, rather than tall. Once your plant has filled its pot with roots, transplant it to its permanent home – the largest pot you have room for. Fill with rich, peat-free compost, which you should top up with fresh compost each year.
Flowering and Pollination
Avocado trees can take up to ten years to bear fruit and indoor-grown plants don't always live that long. However, if you provide it with a moist, fertile soil and plenty of sunlight, and keep it in humid conditions such as a greenhouse or conservatory, your tree will have a fighting chance of fruiting.
An old gardeners' trick in the southern hemisphere to encourage the plant to flower is to treat the tree roughly. When it is of a decent size, (no smaller than 1.5m), attack the trunk of the tree with a knife, or sharp implement. Make sure you don't damage the tree so it can't grow properly, and only cut the surface of the bark – never make big cuts in it. The stress brought on by this attack is said to shock the plant into flower, where it will then hopefully bear fruit.
If the plant is indoors and it flowers you will need to pollinate them in order for it to fruit. Keep a window or door in the greenhouse or conservatory open to let bees in to pollinate it, or move the plant outside – if you can – on sunny warm days.
Regardless of region, avocados are not easy fruits to grow. However, the trees make an interesting addition to the conservatory or greenhouse and you'll never tire of trying to make it flower. If you are lucky enough to get it to bear fruit you'll be rewarded with delicious, fresh avocados and all your hard effort will be worth it.
You might also like...
I have an avocado I grew from seed over the past year. It's about 40cm tall but the leaves have started to go dry and shrivel at the edges. A couple have dropped off. Can anyone tell me what is wrong and how to deal with this, please? I keep it outside in the summer but it's now in a well lit position in the bathroom (which DOES have a bath!!). I live in Paris.BTW, a few years ago I had an avocado spring up in the back garden in East London (UK). It survived at least two winters with some snow and was still doing well when I left.
Kellandh
- 22-Nov-12 @ 9:31 AM
Hi I live in KWAZULU NATAL - SOUTH AFRICA. growing Avos is easy with our warm climate in fact any pip thrown on the compost heap seems to germinate. I have 6 different trees that bare fruit . BUT . SOMETHING STINGS THE FRUIT AND WHEN THEY RIPEN THEY ARE ROTTEN.ALL YOU SEE FROM THE OUTSIDE ARE LITTLE PUNCTURES. WHAT AND HOW CAN I STOP THESE PESTS FROM DESTROYING MY BEAUTIFUL FRUITS ??? PS. WE HAMMER NAILS INTO THE TREE AS THEY SEEM TO BEAR MORE FRUIT THIS WAY . D
Dee
- 12-Sep-12 @ 4:11 PM
Hi, I germinated an avo seed about a year ago and it started growing nicely. By April this year it was about 5 inches tall with a few big leaves so I planted it into a big pot with filled with compost and put it outside during the hot spell. It kept on growing and I gave it a liquid plant food once every two weeks. Up until three weeks ago it started to dry out from the top. I cut the dead bit off but it is drying out and making its way down towards the soil. There are a few leaves towards the bottom the is still green bit all the rest seems to be dying. Is there anything I can do to still save the plant? Also what do you think went wrong? Was it too cold outside, too much rain or should I have used a different feed/soil? Any comments welcome. Thank you.
Dave
- 7-Jul-12 @ 2:09 PM
I ´m leaving in Cascais (Near Lisbon,Portugal).I have a avocado tree (I think is a Hass type).It has been producing great fruits (same about 500g weight).Latelly the fruits are small, I think the tree needs fertilization !!Can anyone help?Thank so muchAMR
Tony
- 25-Feb-12 @ 4:27 PM
Push an avacado stone into a pot with poor gritty soil with some cacti in back in may june. Pot was by a southwest facing wal until brought in a few weeks ago and the was this strange plant about 25cm tall. I totally forgot about the stone until a friend suggested what it was. I repotted it yesterday, placed it back on the window sill next to the kettle in the kitchen. Every time i make z brew i blow the kettle steam onto it. It's a habit now. I'll put it back out next summer then repot it. I like querky plants. Had a horse chestnut in a pot for 10 years. never changed the soil and only cut the roots once. it's about 2ft high and stays out all year.
will
- 28-Nov-11 @ 12:34 PM
Hi, I grew up in South Africa, around Cape Town and our neighbours had a beautiful big avocado tree that was about 10 meters high. The interesting thing is that we sometimes got frost in winter, although we never got any snow. I am now living in Korea and I wonder what the lowest temperature will be that a tree can tolerate without dying. I don't mind so much if it suffers a little in winter, but I don't want it to die.
tokkie
- 7-Nov-11 @ 6:20 AM
I got an avocado plant growing in my green house. It is 5 feet tall. Three years ago I got it from my compost heap. I let it grow in my conservatory for 2 year. This year I planted it in the green house at our allotment. It is very healthy. We have to wait and see how it survives the winter. I consider it as a miracle plant for North London garden.
Jonu
- 6-Sep-11 @ 10:05 AM
I found a sprouting seed in an avacado and shoved it into a pot of regular compost (B&Q general purpose). It has grown well and now stands 25 inches (64cm) tall ! It has leaves all the way up the stem and they are big and bright green. Will it do it any harm to move it or cut it down a bit? It is on a bright north facing ledge. Regards, Lizzie
lizzie
- 30-Aug-11 @ 8:03 PM
Yes, thanks for this.I planted mine last summer and it's still growing on the windowsill.It's around the 30cm mark now, but as all the leaves are around the top (like the photo above) I'm a little nervous about chopping it to 15cm with no leaves left.Some of the leaves are slightly reddish in colour so I'm not sure it's too happy at the moment.Should I carry on and cut it down or plant it into a large pot as it is?
Jade
- 7-Jun-11 @ 9:04 PM
Thank you for this article. I managed to grow a couple of plants from some avacado stones my daughter had as one of her first meals! They are now about 2 years old - one is not really progressing very well - the other is a couple of metres - is it too late to try to make them bushy instead of tall? i.e cutting them down a bit? any tips greatly appreciated - this is one of the only plants I have managed to keep!
rme
- 11-May-11 @ 2:32 PM