Kiwi Fruit Bushes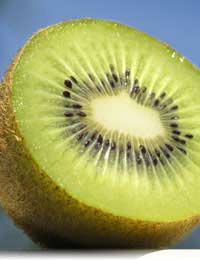 While it is not native to the UK the kiwi fruit can be grown with ease in this climate. The compact bushes provide delicious, sweet furry brown fruit, with delicate bright green flesh. What's more, when picked fresh from the bush, they taste fantastic, and have a much higher nutrient content than those that are transported across the world to reach our supermarkets. What's more, if you grow your own kiwi fruit, you'll be lowering your carbon footprint, as there will be les (or no) food miles involved in you eating your delicious kiwis.
Kiwi fruit bushes are vigorous plants that can grow up to 9m tall. It needs plenty of sunlight and shelter in order to thrive. The fruits grow on vines, and its large leaves are heart-shaped.
Growing Your Own Kiwi Fruit
Kiwi fruit bushes need to be carefully trained and pruned to provide you with the greater numbers of fruit. They grow best on a south or west-facing wall, but in mild areas they can be grown in the open on a sturdy support such as a pergola. Plant them 3-5m apart in fertile, well-drained soil that's packed full of rich, organic matter. Maintain the plants' health by regularly watering them and giving them an annual mulch of well-rotted animal manure or compost. A liquid feed may also be necessary each week during the growing season.
Pruning
Kiwi fruit are best trained as espaliers on horizontal wires. Tie in the main vertical shoot to the support, then prune away vertical shoots and tie in horizontal shoots to supports. Pinch out the growing tips when they have filled the space given to them. Allow side-shoots to develop every 50cm, and pinch them back to just five leaves. These should fruit the following year.In winter prune the fruiting lateral branches back to two or three buds beyond where the last fruit grew.
Flowers and Pollination
Male and female flowers grow on separate plants, so you will need a plant of both sexes in order to produce a crop of fruit. If you are planning to grow a mini kiwi orchard, you'll only need one male plant for every eight females.
The bushes will start to fruit when they are five years old. They fruit on the previous year's wood and can produce up to 100kg of fruit per plant.
Harvesting the Fruits
Pests and diseases rarely attack kiwi fruits, but you should harvest the fruits as they ripen. They will store well in the fridge for up to six weeks.
Varieties of Kiwi Fruit
Hayward (female) – the most widely grown variety. It is the least vigorous and latest-flowering cultivar. Its fruits are large, with a good flavour
Bruno (female) – this produces plenty of large, elongated fruits
Tomuri (male) – this plant flowers late, so makes a perfect partner for Hayward
Whether you have a large garden, or a small back yard, if you have a south-facing wall a kiwi fruit can make an attractive and interesting addition to your plot. They are loaded with vitamin C, and taste delicious, making them a serious consideration for the kitchen gardener.
FRUIT EXPERT IS FOR SALE:
This website is for sale [more info].
You might also like...
I have only one plant which is now about 7 years old and it is full of fruit.Does that mean that my plant is of both male & female?It spreads about 7 feet high and 12 feet wide but the fruit is never really that big.Is there anything that I can do to get bigger fruit on it?
sweetbriar
- 11-Aug-15 @ 6:14 PM
@Smithy - Kiwi fruit require a long growing season (at least 240 frost-free days) and as specified in the article while they will tolerate some shade, they much prefer a sunny location and shelter from the wind. They are heavy nitrogen feeders also. However, given that you have grown them successfully in previous years, I can only assume an unnaturally cool temprature has impeded fruit growth.
FruitExpert
- 1-Jun-15 @ 12:37 PM
My kiwi always produces masses of fruit but they never grow any larger than a peanut. What is going wrong.
Smithy
- 28-May-15 @ 8:13 AM
I have well established kiwi plants in the garden,(male and female) they bear fruit each year. There must be well over 70 kiwis at the moment but they are all about golf ball size and never get any bigger, it was the same last year. Any ideas as to what I maybe doing wrong, thanks in advance.
sharon
- 3-Sep-14 @ 8:49 PM
we have a large and established kiwi in our garden , although it flowers it does not bear fruit, i have been looking for both a male and female plant to be sure that it pollinates but with no luck in local garden centres in Staffordshire ,only self fertile plants seem to be available. can you help ? many thanks
moorsman
- 25-Aug-14 @ 4:11 PM
I have planted one Kiwi plant 3 years ago, now I realize I must have a male and female version, how do I know the sex of my plant?
Coach
- 30-Jul-14 @ 10:14 AM
I've ive got a kiwi bush called Janine I take it this must be female, so I'll need a male plant to produce fruit What's the best male for the job?
Bilbo
- 8-Jul-14 @ 5:16 PM
At what time of the year are kiwi fruits ripe for eating?
col
- 28-May-14 @ 7:10 AM
I have had kiwi fruit for a few years now, the first time it fruited we had bucket loads, but in the last three years although it flowers hundreds of fruit, they drop off with the petals. I do prune it in january. Thank you
Gerry Breeze
- 30-Jun-13 @ 10:13 AM
I have a kiwi fruit vine in my greenhouse for over seven years and cut it back every year, the next year it grows beautifully and looks lush but we have never had any fruit or blossom. I did buy another twoplants as I was told I should have a male and female, I have had these for some 3 years but still no fruit and no blossom, possible they are all the same sex.What am I doing wrong and how can I tell if I have only one species. thank you
jenny
- 25-May-12 @ 2:42 PM
Where can I get M / Female Kwik Plants, I am in Hertfordshire so I may be able to and get them
JOHN
- 22-Feb-12 @ 3:58 PM
I'm now trying kiwi plant called jenny that does not need to be male or female, it is self fertile. It's only a small baby but should end up covering over 4metres and may take up to 3 to 4 years before I get fruit can't wait.
christa
- 19-Sep-11 @ 7:42 PM
I have 2 Kiwi plants, every year it flowers and there are about 400 to 500 young fruits, but before it could get bigger , the autumn starts and they don't get big enough to pick, they drop off from the tree mid autumn.How can I get it to ripe before the autumn? Any suggestions.
The flowers will be the giveaway. Male flowers produce pollen only, and will have no stigma or ovum. Without actually knowing what they look like, I cannot say any more, though in most cases, the vestigial fruit is visible behind(at the base) of a female flower. To give an example this is quite clear with marrows etc, which are either male or female flowers, or tomatoes which are both male and female. Somewhere, there must be pictures of the male and female flowers.
Andrew
- 4-Jul-11 @ 6:07 PM
We planted a kiwi plant in our garden against a fence, and it has grown very well, the only snag is that in the 9 years that is there hasn't produced any fruit. We realize that it may be a male, the label is no longer there so that we can't identify what it is. How can we find out. Is that anything to do with the size of the leaves? They are right now very large. It started being a small cane, but now has taken over part of the fence, and no fruit. Can you help us?
Leda
- 21-May-11 @ 3:01 PM
We have a great looking kiwi which my husband has grown from a seed. He loves it. My question is how can I tell if we have a female or male, perhaps I should buy a male and a female plant them near to it in the polly tunnel and wait and see, whats your advice?
lindypops
- 22-Apr-11 @ 1:49 PM