How to Make Fruit Liqueurs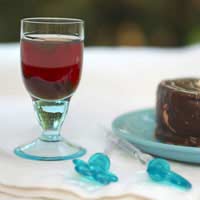 Some of our favourite liqueurs are fruit-based. Just think of Cointreau (orange), crème de cassis (blackcurrant) and cherry brandy. The good news is that fruit liqueurs are simple to make and almost any fruit or combination of fruits can be used for flavouring. All you need is fruit, alcohol and sugar. Oh and some patience!
The alcohol
Vodka and gin are the most popular choices. If you use vodka, the fruit will be the dominant flavour; alternatively, gin will bring its own taste to the finished liqueur.
The fruit
Whether you have bought the fruit or picked it yourself, wash it well before use.
Hard fruits like peaches or pears, need to be diced and the stone or core removed.
Berries with a distinct skin can be left in the freezer for a few hours before using to encourage the skins to burst open to allow their flavour to escape more easily.
There is no need to remove the stones from cherries.
The equipment
You need a large lidded glass jar that should be carefully washed or sterilised before use.
The method
Place about 450g prepared fruit in the jar. Cover with about 1 litre of 80 proof vodka. Replace the lid and store in a cool dark area for up to 1 month. Stir weekly. During this time the fruit soaks up the alcohol and the alcohol absorbs the flavours of the fruit.
Drain the liquid through a colander into a clean container, squeezing the pulp to extract every last drop of juice. (You may like to use the left-over fruit as a boozy topping for ice cream or pudding!) Return the liquid to the lidded container and add about 350g granulated sugar. Shake well. Leave in a cool dark place for about 3 months to mature.
Tasting
Taste before bottling.
If you find your liqueur too sweet, add a little more vodka: water on 1:1 ratio.
Alternatively, if your liqueur makes you screw up your face with its sharpness, add some more sugar and leave to age a little longer.
If the alcohol content is too high add extra water or fruit juice and sugar; if it's too low, add sugar and vodka.
Another method
To perfect your liqueur-making, experiment a little. After the first straining, store the liquid in a carefully-labelled (e.g. first straining) bottle. Return the fruit to the original jar, layering it with sugar. Tightly cover and leave for a few days so the sugar can draw the alcoholic juices out of the fruit. Strain off into another labelled (e.g. second straining) bottle. Repeat this process as many times as you have patience for or until the fruit has given up most of its goodness and looks withered. Then you can begin mixing the bottles, blending and sampling the products. Bear in mind that the first liquid drawn off will be the most alcoholic and the final the sweetest and least alcoholic. When you are satisfied, bottle and enjoy.
A simple lemon liqueur
6 lemons
400 ml granulated sugar
800 ml 80 proof vodka
Place the sugar in a large jar with the zest from the lemons. Pour on the vodka, shake, and leave, tightly-lidded, in a cool dry place for about a month. Strain into a bottle.
FRUIT EXPERT IS FOR SALE:
This website is for sale [more info].
You might also like...
this is- 15 Sep2020 there is a lot of stuff one here which is quite out of date, I have been making wines of many fruits for more than 30*** years, i make less wine from fruits these days--but do retain my v old standard "brew" for making a very good bramble winne --bit it needs maturing( with lots of attention) I find many of the tradititonal recipes are very old ----bu tit tou use them just be slow and careful for good results a bientot
tapan
- 15-Sep-20 @ 8:23 PM
Thanks It's a great information i need to know more about diy brewing.
Siphiwo
- 23-May-19 @ 6:51 PM
I have 2 gallons of fresh pear juice from my trees and wonder if I can still make a liqueur or wine.
Beth
- 28-Oct-16 @ 1:28 AM
Thanks for you recipe for fruit liqueur- I would like to try this recipe to fresh figs, so do I trim off stork and cut them in 1/4's or take off the skins and proceed in the same way please? Shirley
shirl
- 6-Jul-16 @ 3:05 PM
@the commander - You need to take out the lumps and put a cup of hot fruit mixture into your food processor add the lumps and blast until the lumps dissolve. You need a blender where no air can get in. Bring your pan with fruit mixture back to a boil, add the blended pectin-fruit, and stir well. Be aware though, pectin clumps can only fully dissolve in a low sweet mixture. Ali.
Ali
- 21-Sep-15 @ 12:49 PM
Do you know how to disperse large pectin jelly lumps in redcurrant liquer?
the commander
- 20-Sep-15 @ 2:20 PM
I checked the fig in vodka liqueur after two weeks of bottling and was surprised to see that it is very thick. What have I done wrong and can I save it?
Monica
- 19-Oct-14 @ 7:17 PM