Using Up a Plum Glut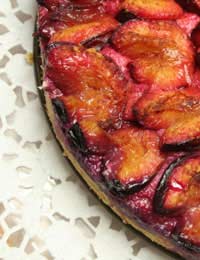 Lucky enough to have a plum tree in your garden? If you're drowning in fresh plums and you can't eat them fast enough to stay afloat, we've got some ideas for you...
Give Away, Freeze and Bottle
Plums are at their best fresh, so if you owe any favours, a punnet of plums will be ample repayment. Perhaps you don't want to give your plums away? We don't blame you. If you've got the space, you could try freezing them: just wash, halve and stone them, then open-freeze them on a tray or pack them into plastic bags (if you're expecting to use them in pies and crumbles).
Open freezing means that you arrange them on a tray, making sure the halves aren't touching. When they've frozen solid, remove the tray from the freezer and transfer the plums to bags – this way they'll keep their shapes. Bottling is another alternative – it doesn't take up valuable freezer space.
Drink Your Glut: Plum Vodka
Making plum vodka is very simple, and easy to adapt to your own taste. You'll need a large pan, sterilised bottles and muslin. Depending how sweet your plums are, combine them in a pan with up to half their weight in caster sugar. Now add vodka – 75cl per 500g – and bring very, very slowly to a gentle simmering point, just to dissolve the sugar. Stir well, then pour the whole lot into sterilised bottles, seal, and move to a cool, dark place.
Give the bottles a gentle shake whenever you remember. After three months, strain the vodka through muslin and pour into a fresh bottle. You could add your own twists to this recipe, by including a few pieces of orange zest, a pinch of cinnamon or some fresh ginger (add before heating).
Preserve Your Glut: Plum Jam
Jam or chutney is a useful way to use up a plum glut. Jam is delicious inside Victoria sponges or sandwiched between uncooked shortbread layers to make a tea-time treat. It's super-easy to whip up, too. You'll need some equipment: a large (non-aluminium) saucepan, a wooden spoon, and sterilised jars (Kilner jars, with rubber seals, are good). Before you start making your jam, place two saucers in the freezer.
Choose firm plums – overripe ones won't have enough pectin to set the jam. Weigh them before you begin. Halve the plums and put into a large saucepan, then heat gently until they soften (if very firm, add a spoonful of water to help them melt down a bit). Add the same weight in sugar, and heat gently, stirring, to dissolve it. It's important to make sure all of the sugar is dissolved because otherwise you'll get gritty crystals in the finished jam.
Finally raise the heat and stew the jam for another ten minutes or so, until it starts to look ready. Test by dropping a little onto one of your cold saucers. If it wrinkles when pushed, it's ready for bottling. Pour carefully into warm, sterilised jars, seal, and label.
Plum chutney is a good partner for roast duck or cheese ploughman platters. Plum sauce is a popular ingredient in Chinese cookery. To make your own, adapt your favourite plum chutney recipe, using Chinese rice vinegar instead of wine vinegar, and adding a generous piece of ginger (chopped) and garlic (minced).
Enjoy Your Glut: Plum Tarte Tatin
This is a really easy tart to make – all you need is a wide pan that can be put into the oven – and it makes the most of ready-made puff pastry. Another easy plum dessert is crumble: soften the plums as instructed below, then tip into an ovenproof dish and smother with a mixture of oats, Demerara sugar, almonds and diced butter.
Ingredients:
200g ready-made puff pastry (choose an all-butter version)
6-10 plums, stoned and halved
3tbsp brown sugar
½ tsp cinnamon
2tbsp butter
Preheat the oven to 200 degrees C. Set an ovenproof pan on the hob, and melt the butter. Sprinkle the sugar over it, then arrange the plums carefully over the top (cut side down) in a concentric pattern. Cook on a low heat until the sugar and butter starts to caramelise on the plums (lift one to check). If the plums have released juices, turn up the heat briefly to drive off excess water.
Roll out the pastry, prick gently with a fork, then press it over the plums, tucking in the edges. Put the pan into the oven for around 15 minutes, until the pastry is golden and risen. Remove from the oven and turn out onto a plate (quickly), replacing any plums that stick in the pan. Serve with ice-cream.
FRUIT EXPERT IS FOR SALE:
This website is for sale [more info].
You might also like...
I have a Chinese plum tree and I was wondering can you use any plum recipe with them, or do they have to be cooked in a certain way. Can you use the Chinese plum for a replacement for the purple plum? I would really love some recipes for them cause I have a large tree that put out big time this year!!!!??
Jen
- 5-Apr-19 @ 11:37 PM
Hi - thanks for this idea - just wondering, can I freeze a plum tarte tatin for (say) a month? Need to get some desserts made in advance for dd's wedding and this might be a good candidate if I can freeze it. Thanks!
Grizzles
- 28-Aug-18 @ 3:45 PM
I make a plum Sponge a basic Victoria sponge using 3 eggs (6oz flour/ butter/sugar) Ground almonds & almond extract to taste Later sponge mixplums 1/2ed and stoned top with more plums bake at 180 until cooked top with toasted almonds
Caz
- 25-Aug-17 @ 1:14 PM
Hello, i have space in my garden for one plum tree, cannot grow too big due to space restrictions (2m high, not too wide), must self-pollinate. Would like an all-rounder for eating, making jams, cooking etc. Sheltered spot with good soil and average sunlight. Any recommendations on variety and where to buy a 2-3yr old one please?
NickH
- 22-Mar-17 @ 7:31 AM
Newbie - Your Question:
I would like recipes for plums
---
Our Response:
If you don't fancy the tarte tatin listed, there are plenty of recipes out there if you do an online search.
FruitExpert
- 20-Aug-15 @ 1:46 PM
I would like recipes for plums
Newbie
- 19-Aug-15 @ 2:22 PM
@mo and lulu, did you find a plum sponge recipe? I'm looking for one too!
heidi
- 4-Sep-14 @ 11:49 AM
Yes I would like recipe for plum sponge thank you and I am just about to freeze my glut of plums thank you
Would love a recipe on how to make plum sponge?
Lulu
- 21-Sep-13 @ 3:16 PM