Musa Basjoo, more commonly known as the Japanese Banana Tree, belongs to the Musaceae family and is one of the perennial evergreen plants. Originating from Sichuan, in China, these fruit trees actually do very well in the UK climate. These trees can become quite sizable, growing to a maximum height of 5 metres and will be a full size between 5 to 10 years.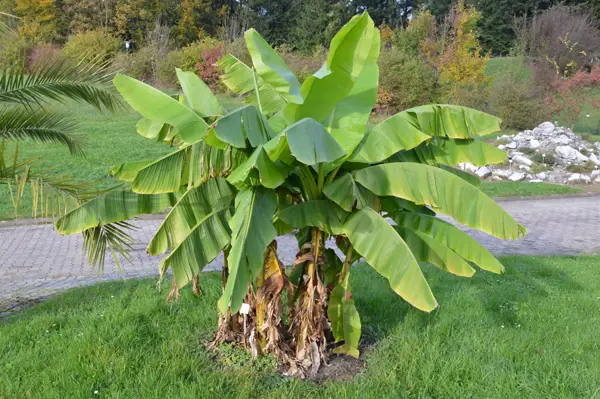 Latest Fruit Finds...
Browse plant deals from top retailers on our site!
---
Musa Basjoo Banana Trees Climate
These hardy banana plants can tolerate temperatures as low as -15°C so they don't need to be moved to a warmer location during the winter.  Japanese banana trees are usually positioned in garden borders where the green leafy plant with its white flowers can take pride of place.  You will see flowers during the summer months.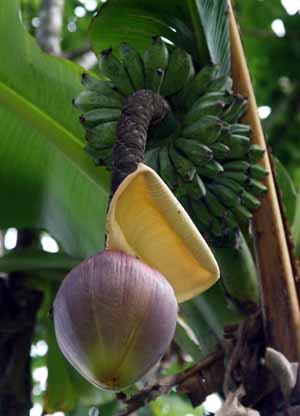 In Japan, these bananas are eaten as a delicacy and they are a small variety of banana, often used as a dessert. They are loved in Japan for their fibre qualities, hence their nickname of "Japanese Fibre Bananas".
Growing hardy bananas in the UK doesn't always bring edible results so it's important to be aware of this prior to planting. This being said though, the tree is very impressive to look at with its big leaves and flowers.
---
How To Grow Japanese Banana Trees in the UK
Musa Basjoo trees are one of the hardiest exotic fruit trees you can grow and can cope with up to -15°C. In the right location, with the right soil, you can enjoy your hardy banana plant for many years. By following our suggestions below, you will give your Japanese Banana tree the best care.
Plant your hardy banana tree in the Spring in a container, bearing in mind it will need repotting every year.
You can plant your Japanese Banana tree in your borders or on your patio in a container as long as it gets plenty of sun and some shelter. They are best positioned in a southwest direction.
You may not get edible fruit on your hardy banana plant – if you do get fruit it will occur in the Autumn after it's had 9 to 15 months of sun growth. Mostly these trees are grown for ornamental purposes and not for yielding successful fruit.
You might feel alarmed when the first frost hits your beloved Japanese banana tree and you find it has seemingly died. Don't panic, this is normal for this tree as it overwinters. Before the frost is expected, cut your stems back and the leaves, until you leave it at a height of around 8 to 10 inches above the ground.
Your banana tree will benefit from a pile of mulch over the crown during the winter. Your tree will enjoy plentiful watering from spring onwards, and you can use organic matter too.
Well-drained soil is required for Musa Basjoo plants so if using a container, make sure and provide drainage. Chalk, loam, and sand are all appropriate soil types for your plant.
The flowers on Musa Basjoo are self-fertile so only the one is required – it's worth remembering that these trees are largely ornamental and not to rely on a successful fruit crop.
You may wish to wrap your tree up during cold weather just as extra protection against the elements.
---
About Musa Basjoo (Japanese Banana)
Originating in southern China, Japanese Banana trees enjoy subtropical climates. It quickly became popular in gardens in the UK, Europe, the US, and southern Canada for its beautiful foliage qualities.
Did You Know?
Although often called trees, Musa Basjoos do not have trunks – instead they have pseudostems. Pseudostems are thick leaves that form giving the impression of a trunk.
Musa Basjoos are used in traditional Chinese medicine to alleviate heat toxins and help with dehydration, amongst other things.
If the pseudostem dies, the banana can resprout and grow back to full size in the right conditions.
The Japanese poet, Matsuo Bashō, created his pen name from this plant.
Musa Basjoo FAQ's
We round up our Musa Basjoo article with our very own FAQs with the aim of answering those last niggly questions.
How Tall Will A Musa Basjoo Tree Grow?
You can expect your Musa Basjoo tree to grow up to a maximum height of 5 metres.
How Long Before A Musa Basjoo Tree Bears Fruit?
You won't necessarily get fruit on your Musa Basjoo tree in the UK. But if you do it'll need anywhere between 9 to 15 months of sunshine first.
Do You Need Two Musa Basjoo Trees To Produce Fruit?
You only need one Musa Basjoo tree to produce fruit (if successful at all). This is because flowers have both male and female parts on them.
Do Musa Basjoo Trees Lose Their Leaves?
During winter your Musa Basjoo plant will die back and then regrow the following season.