Plum Trees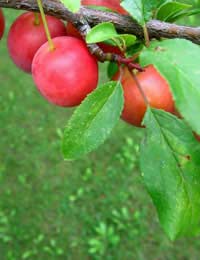 Plum trees are regularly grown in gardens in the UK and their fruit is traditionally made into jam and eaten on its own. They can also be made into a fruity wine or dried and eaten as prunes.
The trees flower in early spring and cover the tree in blossom. Normally around half of the flowers will turn into fruit but this can depend on the weather. If there is a late frost, the tree could lose all of its flowers, and the fruit set will be lower than normal – you may even not get any fruit at all if the frost is severe enough. If there has been very little rain, the fruit crop will suffer, and you will also get less fruit if it has been too wet.
Greengage
The Greengage is a close relative of the plum. It was developed in France and is small and oval-shaped. Unlike plums, they are green or yellow, and are the tastiest of eating plums.
Varieties of greengage include:
Bryanston
Cambridge Gage
Golden Transparent
Laxton's Gage
Laxton's Supreme
Growing Plum Trees
Plum and gage trees are easily grown in the UK and need very little maintenance.
Choosing Your Plum Tree
If you want to grow your own plums, you will need to consider a few factors before buying your tree. How big do you want it to grow? Do you want cooking plums or eating plums? How many plum trees will you need in order to produce fruit?
How Big Will it Grow?
You can buy plum trees to suit nearly every type of garden. Fan trained trees only grow to a height of around 2m, and a width of 3m. They are ideally grown against a south or west-facing wall. You can also buy free-standing fruit trees, which grow to an eventual height of around 2.5m, and are ideal for smaller gardens, where a fan-trained tree wouldn't be suitable.
Bush-trained plum trees are also an option. They are also freestanding, and grow to up to 4m in height. They are ideal for larger gardens. Growers looking for a really large tree might want to consider growing either a half standard tree (they grow to 6m), or standard plum trees (8m). You will need to use a ladder to reach the fruits from these trees, however.
Cooking or Eating?
The following guide will help you learn more about varieties of plum tree and the best one for your needs.
Blue Tit – produces a large crop of delicious blue plums
Czar - eating plum with yellow-green flesh
Old English Greengage – best tasting of all gages, this tree produces a small crop of very juicy fruit
Pollination
Some plum tress are self-fertile, which means you will only need to buy one, but many require another tree growing nearby for pollination to occur. If you do choose a tree that requires another variety to cross-fertilise with, choose one that flowers at the same time.
Plum trees are varied and they are a fantastic choice of tree to grow in the garden. With the right conditions, they will produce masses of fruit every year that can be used for a variety of culinary treats.
You might also like...
@Woody - it might be about the variations in the water supply available at the roots. Hard to say really. the most important thing is not to waterlog the tree, but to keep water more constant if you can (if the tree is in a pot).
Mel
- 13-Jul-18 @ 12:02 PM
The plums on my tree are shrivelling up and dropping off. They appear to be ripening but then drop off. Some of the fruit is still green and plumping up nicely but the majority are purple and shrivelled. I thought it might be due to the dry weather but even though I have given it a good soak I've seen no improvement. Any advice dreadfully received Thanks
Woody
- 12-Jul-18 @ 6:52 PM
@Kaleem - give it a chance, it'll take 4-5 years to establish itself and properly fruit.
Hi I have a relatively new plum terr. Last year it did fruit but not much. This year there is ample fruit but I feel that fruit is not growing in size and compare to my sister my fruit seems to have an arrested growth. Any Idea?
Kaleem
- 3-Jul-18 @ 11:27 AM
@Tanzynia- chop down the tree because of lack of fruit - it's worth keeping the tree for the beautiful blossom and as you say to save a life! Sometimes, the tree just may not like where it is and something about the soil consistency, situation, or the fact it might be a late developer (plum trees usually start cropping when they are four/five/six years old, depending on the rootstock). Or you may be over/underfeeding it. Another possibility is that birds or insects can destroy the flower-centres stopping the tree from fruiting. Cold snaps can destroy fruit. You can tell after bloom if your tree will set fruit if you inspect the ends after blossom drop. The ovary should be swollen with the beginning of the new fruit. If these are absent, there is a problem with initial fruit set. The things you can do to help your tree along are to: make sure there are no weeds and grass at the base of the tree, fertilise well, foods with higher in phosphorus will help with blooming and fruiting (think bone meal). Prune your tree well to prevent disease. No shade. Your fruit tree just needs a bit of patience and TLC and hopefully it will sort itself out.
Jan77
- 25-Jun-18 @ 11:35 AM
I planted a self fertile Jubilee plum tree in 2011. Although the majority of the tree is healthy the odd branch keeps dying off and we only get about 1 tenacious plum per year. We get lots of blossom and our other fruit trees like the apples are heaving with fruit. The plum tree is about 20 feet away from the nearest apple so I don't think they are competing for resources. My husband is keen to cut it down as it produces no fruit but I am determined to save it from the saw! Any advice would be most welcome and could indeed save a life!
Tanzynia
- 24-Jun-18 @ 9:37 AM
@annie - Hopefully it may come back. In the meantime, do the scratch test. Scrape a twig with a small pocketknife to reveal the layers beneath the bark. A live tree has a green cambium layer beneath the outer bark and green, white or cream-colored wood inside the twig. Dead twigs will be brittle and grey or brown inside. Check several twigs in different parts of the tree to ensure the entire tree is dead. I would suggest waiting another few weeks to see if the tree pushes through some new growth. With warming days, it may still leaf. Good luck.
Carla
- 10-May-18 @ 3:23 PM
I took over this garden in feb 2017, including an old gage treethat had/has canker but was struggling on. I had the worst branch lopped off and treated it with TLC & the necessary medicine & it did very well last year. This winter too it was first in bud and on one branch they were actually flowering when the 'beast from the east' attacked. Everything has stopped and the buds & leaves have not appeared despite me willing them on. I presume the sap was already rising so the freeze gave it a huge shock.What can I do? Do you think its dying or dead or can I hope it recovers during the year?Many thanks for any advice you can give
annie
- 8-May-18 @ 5:39 PM
We have a Marjorie's plum tree - been in 6-7 years... not a flower or a plum in sight. How long will it take. It's about 3-4m tall We don't have another plum tree. It looks healthy but nothing.....,,
Thelma
- 2-May-18 @ 6:11 PM
@Nobby - There could be several reasons. Firstly, if your tree is unpollinated the fruit will drop. Small fruits will develop, but not grow. Most varieties of plum tree needs cross-pollination by another tree. Both trees must be close enough together and flower simultaneously. You can get fruit, even if the tree is not pollinated, but there will be no development and they will drop. Plums are sensitive to water shortage, poor weather conditions and disease too. It sounds to me as though they have not been properly pollinated. More investigation is needed.
NadB
- 24-Apr-18 @ 10:03 AM
My fruit on my Victoria plum tree only grow to a small size before turning yellow and then they stop growing
Nobby
- 23-Apr-18 @ 3:19 PM
No fruit on Victoria Plum only grow to a small size before they turn yellow and stop growing
Nobby
- 23-Apr-18 @ 3:17 PM
I have a beautiful plum tree that normally fruits in excess of 20lb of plums but last winter it blossomed in October/November even growing a couple of tiny plums, this spring I had no blossom at all and no fruit my tree doesn't look happy with yellowing leaves.Any suggestions on what I can do?
Astro
- 17-Sep-17 @ 7:41 AM
@Jack - It could be brown rot. If so, the skin of the affected plums will have small grey raised bumps on it. The flesh inside the plum and beneath the plum will be discoloured and rotting .Getting rid of all the diseased plums and treatment with a brown rot fungicide is the only course of action. :(
Hele
- 15-Sep-17 @ 4:03 PM
The fruit on my plum tree have brown scaley parts on them why is this?
Jack
- 14-Sep-17 @ 11:42 AM
We have a Marjorie's Seedling plum tree planted about 12 years ago which has always fruited well.This year the fruits on the lower branches are the size of cherries and have turned purple already.The fruit higher up is normal size and still green as it should be as it ripens quite late. Have you any explanation/remedy for this? A Victoria plum nearby, planted at the same time, also has plenty of fruit and this is ripening normally.We have just starting picking these.
Jessicle
- 10-Aug-17 @ 12:15 PM
Can anyone identify this tree and if it's plum please
Mommykaz
- 10-Aug-17 @ 11:52 AM
I have a Marjorie's Seedling plum which is about 10 years old and has fruited well in past years.This year most of the fruit on the lower branches is about the size of a cherry and has turned purple already while the fruit higher is up normal sized and still green as it should be at this stage. Can you suggest a reason for this and what can I do about it?
Jessicle
- 10-Aug-17 @ 9:29 AM
I have a very old plum tree that has borne many fruit in the past but this year every one picked so far has a worm in it. Does this mean they all have and should I remove the tree.
Rose
- 6-Aug-17 @ 1:22 PM
I have two plum trees in my garden which are very old, they are still producing lots of plums, but would really like to know types they are and if they are edible. Would anyone be able to help me please. Thank you
Michelle
- 5-Aug-17 @ 5:05 PM
We have a plum tree on our allotment planted about 5 or 6 years ago. It has grown well but has never fruited. This year all the leaves have a black sooty covering on the top surface and the tree seems alive and buzzing with what look like tiny wasps possibly feeding off the black. It really looks totally infested. What could this be and is there any hope of saving the tree?
Barb
- 29-Jul-17 @ 7:46 PM
@Ecco - yes! The plums are ripening perfectly currently and if you don't want them to be eaten by insects and animals then I would definitely bring them in.
AllotmentMan
- 27-Jul-17 @ 11:04 AM
We have a Victoria plum tree which has an abundance of fruit.Quite a few, ripe looking plums, have fallen off.Some very small, some quite big. Should we bring them inside to ripen further?
Ecco
- 25-Jul-17 @ 1:00 PM
I have a tree I believe is a cherry plum.It self set three years back.The first two years we had blossom in late January but no fruit.During this time I was still unsure what it was and actually thought about cutting it down.This year it gave a magnificent show of blossom and I noticed there were what I thought were berries but also it had long seed pods,which confused me even more as I had tried googling but can not find anything about cherry plums having seed pods.As the months rolled into summer the berries (or fruits) have become larger turning from green to yellow and now into July a crimson red as they have ripened ,perfectly round in shape,slightly larger than a cherry and yes they taste of delicious sweet plum,the redder they become the sweeter they get.The tree is ladened with fruit and now into its third year has gone from literally a twig to about 20 foot tall and still growing.So are seed pods common with these trees ? It seems unusual as I thought trees would have propagated from the stones ? Do I have an unusual variety ? I am curious to know.Thank you for reading.
eeyore94
- 16-Jul-17 @ 10:03 AM
coco - Your Question:
What time years do plums appear.
---
Our Response:
Much depends upon where you live. Harvest in the UK is generally in August, it may be earlier in warmer climes.
FruitExpert
- 29-Jun-17 @ 11:59 AM
What time years do plums appear.
coco
- 27-Jun-17 @ 4:37 PM
I have a fan shaped plum tree which has been allowedto grow. It is now about 8 metres high. How do I go about pruning it back to shape? Should I cut off some of the upward growing branches or just prune as a standard plum tree?
Majim
- 26-Jun-17 @ 11:39 AM
@Cheops - sounds like an unhappy tree :( Have you checked the soil and conditions via the RHS?
Tina
- 15-Jun-17 @ 10:37 AM
@Cheops - it may take a few years for your fruit tree to become properly established. But you might want to check whether the aspect and soil conditions are those required to produce an optimum yield.
Milo
- 13-Jun-17 @ 12:42 PM
I have a young patio Victoria plum tree planted in the ground. Last spring [had been bought and planted the previous autumn] it produced no blossom but in the first week of June it produced some blossom at the very tips of some of the branches. These flowers grew to pea sized plums then fell off. Again this spring no blossom but again in early June some blossom has appeared at the the growing tips of some of the branches. Is this tree going to do this every year and never produce fruit.
Cheops
- 13-Jun-17 @ 10:53 AM