Growing Goji Berries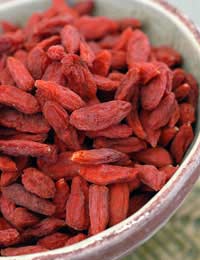 They're the latest 'must have' miracle berry in celebrity circles. Said to banish cellulite, boost your immune system, contain more vitamin C than oranges and more iron than steak, this Himalayan berry is quite a catch. There's one problem though, they're very expensive to buy. Good news then, that these little red berries can be grown in the UK's climate easily, and you can eat piles of fresh goji berries throughout the summer months from just a few, small bushes.
Growing your own goji berries is not only kinder to your wallet; it's kinder to the environment too. They are now commercially grown in China, Mongolia and Tibet. The food miles involved in shipping them over to health shops in the UK are quite substantial, so if you have room for a bush or two in your garden or on your balcony, they'll be a wealth of benefits involved.
How to Grow Goji Berries
Once established, goji berries are incredibly easy to grow. They'll grow in almost any type of soil, and can even thrive in poor soil, as they are used to the mountainous regions in the Himalayas. They are reasonably drought-tolerant, and will even grow in partial shade (though you'll get more berries from them if you grow them in full sun).
You can grow them from seed, or buy them as young plants. Buying young plants is far easier, as goji berry seeds are prone to rot in the compost and you're less likely to get good results. The seedlings also need to be kept in warm conditions for 12 months, so for practical reasons, buying young plants is the more sensible option.
Once they're a year old, however, they are perfectly winter hardy. Unchecked, they grow into a thick bush that reaches up to three metres tall, with vines that can grow to nearly four metres. If regularly pruned, they will form attractive small bushes that produce more berries as a result.
Growing
When your plants first arrive it is likely they will just look like bare twigs with some roots on. Don't worry, this is normal. If planted straight away and watered well they will grow leaves within two-three weeks. Dig a hole around 50cm deep and wide and place the goji berry plant in it.
Firm the soil around the plant and water well. Leave about 1m between plants and mulch the area around the stems with leafmoluld or garden compost to keep the soil moist and well-nourished. You can even grow the bushes into a goji berry hedge; simply plant them 1m apart in a straight line.
Flowers
After two years the bushes will start to fruit, and from four years you'll start to get very heavy yields. In early summer the bushes will produce small, delicate, trumpet-shaped flowers that will be either white or purple. Both coloured flowers can feature on one plant, so they provide visual interest before the berry production begins.
The berries will begin to set in autumn. The ripe fruit are sweet and juicy and almost shiny in appearance. The flowers will continue to bloom right up until the first frosts, however, so your plants will be red, white and purple throughout late summer and autumn.
They are beautiful to have in your garden, delicious, nutritious, and cheap and easy to grow. If you want health-boosting berries on tap you should consider investing in a goji berry bush or two.
You might also like...
Hi, Nice day,dear friend Hope this e-mail find you well,-:) This is Sofia Liu,a lovely girl from Yinchuan,Ningxia,we are the first manufacturer exportOrganic Goji berries for 17years. After saw your website,I thought you might be interested in our Goji berries . would you like to get some samples for testing , my friend ? We still have many other models, i can send you our more information if it's okay for you, dear friend -:)I'm here waiting for your reply-:)
Sofia
- 25-Mar-15 @ 8:48 AM
"I live in Mildura Victoria Australia. ..... am afraid I have never heard of them (in Oz). Seeds would be my only option and of course would have to go through our Primary industry inspection .......to be available in Australia Where can I buy......here? If not ,am I able to import them.I live on 1 3/4 acres so plenty of room. Peter - 22-Jan-13 @ 5:04 AM Hi Peter. Try going to a Chinese Herbal medicine shop. They should have Gogi Berries (dried) for sale there. Buy a pack and soak a small amount of these in cold water, for a number of days changing the water regularly until the berries are swollen and soft. Squeeze out the pulp into a glass of water and run this through a fairly fine sieve to enable you to wash away the pulp and leaving the small seeds behind. (You may need to leave the pulp in fresh cold water to allow it to break down a little before running it through the sieve). Select out a number of seeds and germinate these under a bright light (or if warm weather, outside in a semi-shaded area). The rest of the dried berries you can soak and place in a blender to drink the juice. Hope this is helpful to you. Bill
Bill
- 23-Mar-15 @ 8:25 AM
@Gnomes - thanks for the advice. I'm sure it will be helpful to other users.
FruitExpert
- 28-Oct-14 @ 10:07 AM
My gojiberry has just produced its first fruit! It's in its fifth year (possibly held back a year as I moved it off my allotment) and I didn't think it would bare any fruit. I did not even notice it had flowers! I had plans to pull it out this weekend..l so my advice is to persevere with yours, I cut mine back hard in the early spring as it was getting too big and unmanageable, this probably did it some good. Though only a small crop this year I am hoping for more in future years.
Gnomes
- 26-Oct-14 @ 7:14 PM
@permiegreen - perhaps it is because we have had quite a nice summer with bumper fruit harvests, let's hope next year is the same.
FruitExpert
- 22-Oct-14 @ 11:35 AM
I have had my Goji berry bush for 7 years, I have had flowers from late august every year, however tjis is the first year I have had berries :D I have to admit to jumping round the garden when I saw the 8 or 9 fruits it has produced. :)
permiegreen
- 21-Oct-14 @ 5:32 PM
@Eb61 You should be able to grow them to fruit in the UK too. But they will not tolerate heavy, wet soil. The best advice is to plant in free-draining soil using garden compost or manure and feed in spring with general plant fertiliser. For an abundant crop, plant in full sun and apply a fertilizer formulated for flowering woody plants in early spring, just as new growth begins. Perhaps you could experiment with another plant in a different part of the garden to see if it produces fruit, even though you'll have to wait a couple of years to see if it's worked. Good luck.
FruitExpert
- 10-Oct-14 @ 2:00 PM
Having read all the comments on this forum, I have come to the conclusion that we can grow goji in the UK but unless you live in the Scottish highlands, the correct conditions for fruiting are not met. My plant is about 8 years old now, sometimes flowers, but never fruits. It grows rampantly, and gets pruned regularly, otherwise it would outgrow its plot. Am resigned to having a pleasant plant in my veggie patch, with prunings that I can use instead of fruit!
Eb61
- 10-Oct-14 @ 8:31 AM
I have three 2-year-old wolfberry/gojiberry roots that I bought this August from Phoenix Tears Nursery. Within 6-7 weeks of planting, they had put out 16-24" stems loaded with buds that are now beginning to open.I planted them together in a raised bed.We have alkaline soil, which they like, and I topped off the beds with a local (North Texas) bagged topsoil that has a pH of 7.5-8.I have kept them watered - no potting soil and no fertilizer.
Dorie
- 9-Oct-14 @ 3:21 AM
I bought my first Gojiberry plant from Aldi (aug 2014) I will diarise its progress)
Rudy
- 20-Aug-14 @ 6:20 PM
There are two major types of Go-ji plants: one for producing berries and one for producing leaves. The latter never has any fruits/berries, but spread wildly by roots.
red-Goji
- 10-Aug-14 @ 6:20 PM
Live in Bedfordshire - fairly southerly location. My gojis flower in late August. Needs frost free mild October for fruits to ripen.
Bedford man
- 26-Aug-13 @ 3:07 PM
Hi I live in Wales and I have goji berry bushes growing in my garden. I very rarely get any goji berries as the bushes don't flower until mid August and so the fruit rarely ripens.I have even tried them in a polytunnel with no success. Have you any suggestions?.
the saint
- 16-Aug-13 @ 8:24 PM
what and when do i feed my goji in a 10 inch pot 3ft tall no flowers yet
diane lewis
- 27-May-13 @ 11:03 AM
If anyone want import Dried Goji berry,pls don't hesitate to contact us,we always export quality aunthentic Chinese Goji from orgin,thanks!My email: info@xisheng.biz
If anyone want import Goji berry,please don't hesitate to contact us,thanks! We export quality authentic Chinese Goji from orgin directly... My email: info@xisheng.biz
I live in Mildura Victoria Australia. These berries sound fantastic and would be interested in growing some but am afraid I have never heard of them here. Seeds would be my only option and of course would have to go through our Primary industry inspection and rightly so.Are they available in Australia ? If so where? If not ,am I able to import them.I live on 1 3/4 acres so plenty of room.
Peter
- 22-Jan-13 @ 5:04 AM
I have had a Goji Bush/tree for about four years but have had no fruit it did start flowering in 2010, I am not sure what variety it is but it is like a thorn bush and reaches out about three meters in length along my fence, other Gojis I have seen seem to have no thorns. your advice Please LawnRanger
LawnRanger
- 3-Jan-13 @ 2:00 PM
i have 6 goji and this is there first year out side and i have had lots of fruit . it is now 9 nov 1012 and i still have lots of fruit on them. i can not see what the problem is they grow any place . if you feed them and put them in the sun they grow . i do not think it is any good just having 1 . a person on my allotment has had one to 2 years and it did not do a thing but once i put my goji in his had fruit this year . lots of sun and lots of water when it is dry . i put feed on them every 3 months and they are doing great .
bill
- 9-Nov-12 @ 3:37 PM
Hello, if You read, You will find some awnsers from «Big Gee». Consider the gojiplant like a tomato: too much Water - it gets milldiou. In this case you either throw it away(not to contamine neibor plants) or you treat with some blue stuff that we call in France «bouillie Bordelaise». Also like tomatoes (and other fruit): if it grows too high, all the juice goes in the plant but not in the fruit, so you should leave only 6 - 8 stacks and keep them short maximum 1 meter. Personally I cut (all) plants either in autum after the fruit is ripe or in spring when the juice starts mounting in the plants. But your climate in the UK might not be adapted for a Gojiplant, you should keep it outside, in normal earth, in full sun and even better is, if you keep it in a glasshouse. Like this you can control humidity and get flowers earlier.
Vlad
- 25-Oct-12 @ 7:09 AM
I bought a tiny goji berry bush this year (less than 50cm still). I have been growing it in a pot on my balcony. There were a few flowers on one of the twigs in July I think, but now it's full of berries - about 30 I think, a few on every twig. But now what do I do with them? Is it true that you shouldn't touch them with your hands when you harvest them? Have to agree this thread doesn't have many answers...
Juf Liz
- 4-Oct-12 @ 5:30 PM
Please give me pruning tips for my Goji berry bush.
Frank
- 22-Sep-12 @ 10:55 AM
I have a 3 year old gojiberry in a large pot on the patio, it has never produced fruit or even flowered, is this a good time to move it to my allotment where I will plant it straight into the ground.
taxidave
- 12-Sep-12 @ 6:14 PM
I have had 3 bushes for several years now (I think 4+). They are in free draining soil in full sun. I did get a very few flowers one year but no berries. I have tried pruning and not pruning (with 3 bushes I can try different options in the same year). They make a huge amount of growth every year but no berries, not even any flowers. I have decided to dig them up and plant something more productive. I might leave one for a year or two longer but suspect theu are a waste of space. Most of the information on how easy they are seems to come from people trying to sell plants!
AVP
- 1-Sep-12 @ 11:24 AM
What a thread! All wanting to tell the world they have a Goji berry plant (big deal) or one that won't fruit! NO ONE has any answers here! A question only answerless thread!!THE ANSWERGoji berries grow on the edge of desserts and at high, dry altitudes - that is their preferred environment. In the UK we live in a wet mild climate, virtually the opposite.Goji berry plants will thrive in our conditions and will grow wildly, BUT they are very reluctant to flower or bear fruit. They need more "homely" for them, stressful conditions to flower.So keep them dry (but not bone dry - obviously) DON'T allow them to get waterlogged under any circumstances - they don't like wet feet. Keep them in full sun if possible. Don't worry about frost - they are perfectly hardy (it's pretty cold in the Himalayas!).Even in perfect growing conditions don't expect them to show any sign of flowering for at least three seasons. Keep them under control with pruning.
Big Gee
- 20-Aug-12 @ 12:24 PM
Goji berry plants should be pruned in early spring. Pruning should be kept to a minimum as this will maximise the fruit yield.
Kate
- 25-Jul-12 @ 12:12 PM
There seems to be different advice on this, but we pruned ours in the first year by removing virtually everything growing outwards below about 40cm. Subsequently we've found winter pruning for shape helps but you also need to remove shoots in summer (a bit like you would on tomato plants). We had two years with no fruit for no apparent reason, then it came back again. A very strange plant that seems to have a will of its own.
FruitExpert
- 25-Jul-12 @ 12:01 PM
Lots of people seem to be asking my question but no-one seems to be offering an answer. I have a healthy gogi berry bush in a pot( bought from Aldi last year)whose branches are shot up to 4-5 ft in this ratherwet year. Flowers were not expected this year. When should it be pruned and how hard to encourage maximun flowers and fruit, please?Gained some info already - now fancying taking cuttings to make a hedge!
snowdonia gardener
- 25-Jul-12 @ 11:23 AM
is there anyone on here to actually answer questions?
wolfman
- 6-Jul-12 @ 12:53 PM
Had a goji bush for three years, one in the soil, and one in a tub, both are thriving (i think) but I have long long stems and no sign of flowers ?what am I doing wrong,this lady needs some help, PLEASE The stems are so very long, and spikey,would appreciate any help and guidance you can give me,I usually have gree fingers and make anything grow,but no luck at all here,don't want to give in quite just yet, Thanking you in anticipationKathie wilson..
Katy
- 3-Jul-12 @ 3:55 PM