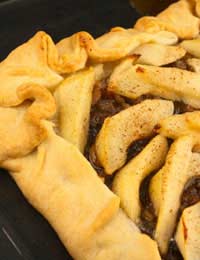 The use of fruit in cooking dates back hundreds of years. And while fruits are most commonly used in desserts they can also form part of savoury dishes. Pineapple is a delicious ingredient on pizzas, for example, and coconuts are an important staple of Thai cooking. Lemons are an extremely valuable fruit in cooking. Not only do they lend themselves to a variety of dishes such as lemon chicken and lemonade, but they help keep certain foods fresh and help preserve their colour. Avocados and apples dipped in lemon juice, for example, won't go brown as quickly as they would without the natural dressing.
Fruits are also found in food such as cookies, muffins, yoghurt, ice cream and cakes. In the UK we are used to dishes such as blackberry crumble, raspberry torte and apple pie but fruit's versatility in cooking is immense.
Other fruit dishes include:
Summer pudding – packed with delicious summer berries
Strawberry tart – a traditional French delicacy
Palma ham, fig and mozzarella salad – three different ingredients combine to make a delicious starter
Warm berry compote – excellent if you have lot of berries growing in the garden
Pear tart – a traditional favourite that looks fantastic
Pork with apple sauce – the tart fruitiness of the apples compliments the meaty flavour of the pork
How to Cook Fruit
There are various ways to cook fruit, and certain considerations should be made beforehand as fruit tends to be delicate, and can disintegrate easily.
Generally, boiling is too harsh a method for most fruits, gentle simmering preserves the texture and shape of fruits. When cooking soft and stone fruits, simply warm them in hot liquid by placing them in a pan of boiled water.
Poaching fruit is a similar method, and is a common way to cook fruit such as pears. Bring the water to a simmer and then gently lower the fruit into the pan with a spoon.
Immediately reduce from the heat so the liquid is barely bubbling, and cook until the fruit is tender.
You could also stew your fruit, where the saucepan is covered and the fruit is cooked in just enough liquid to cover it. This method helps keep it moist. Nectarines are delicious when stewed.
Barbecuing Fruit
Barbecuing and grilling fruit leads to very sweet, strong flavours; this is due to the intense heat which caramelises the sugars. Grilled or barbequed fruit makes a fantastic desserts, side dishes or appetisers. Place pieces of fruit on to skewers and place on a barbecue rack, alternatively, with larger fruits such as pineapple or mango just add straight to the grill. Fruits such as apples and pears can also be grilled and are easy to prepare. This is due to them being able to hold their shape and texture whilst cooking. Softer fruits like peaches, nectarines, plums and mangos may become soft if overcooked.
Once you have cut your fruit, soak it in water to maximize the amount of liquid inside. This prevents the fruit from drying out on the grill. Adding 1tsp of lemon juice to the water will help the fruit preserve its colour. Lightly spray the cooking rack with light cooking oil before cooking to prevent the fruit from sticking to it, and cook on a medium heat. This method of cooking adds a delicious and exotic feel to barbeques and a new angle to eating fruit.
Whatever method you use to cook fruit, you'll never be short of recipes or ideas. Fruit is incredibly versatile, and fun to cook with, and it's good for you.