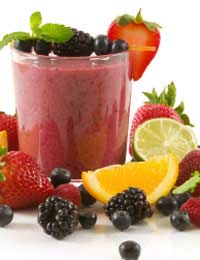 Research into our diets is increasingly finding that certain foods have more powerful health-boosting properties than others. And it's not surprising that many of these foods fall into the 'fruit' category. These foods are packed full of antioxidants which help fight cancer-causing free radicals in our bodies and keep us healthy.
What Are Free Radicals?
As our bodies react with oxygen they produce molecules called free radicals. Free radicals react with other molecules within cells and can damage their proteins, membranes and genes. The damage caused can lead to the onset of disease, in particular Alzheimer's, heart disease and cancer. It also contributes to the ageing of our bodies.
The following external factors also trigger the production of free radicals in the body:
Pollution
Sunlight
Smoking
Alcohol
What Are Antioxidants?
It's not all bad. The body produces an army of antioxidants, which fights free radicals and helps prevent premature ageing and the onset of disease. These antioxidants neutralise the free radicals and stop them attacking our healthy cells.
How do Superfoods Help?
Today, our bodies are exposed to more free radicals than ever before. This is due to pollution levels, our quality of diet, and the way our food is cultivated and processed. The body's own production of antioxidants is not enough to neutralise all the free radicals we are faced with on a daily basis.
All types of fruit and vegetables contain plant chemicals or phytochemicals that we know as antioxidants, which boost the number of cancer-fighting molecules in our bodies. Certain foods contain more antioxidants than others. These foods are known as superfoods.
These foods include:
Bananas – other benefits include potassium, which helps lower blood pressure, and vitamin B6 for healthy skin and hair
Apples – antioxidants include vitamin C for healthy skin and gums. They also contain pectin, which can help lower blood cholesterol levels and keep the digestive system healthy
Berries – these include blueberries, blackberries, cherries and raspberries. They are loaded with vitamin C, folate, fibre and phytonutrients
Citrus fruits – oranges, grapefruit, lemons and limes contain many powerful substances that are important in disease protection, including carotenoids, flavonoids, terpenes, limonoids and coumarins.
Superfoods You Can Grow in Your Garden
Because of the way food is cultivated and processed, many powerful antioxidants in our food are lost. This is because commercially grown fruit and vegetables are expected to perform at much higher levels than they do naturally. They are force-fed artificial fertilisers to make them grow faster and bigger, and produce greater yields. They are also sprayed with pesticides to prevent them from being attacked by pests and help them keep for longer on the supermarket shelf. These processes mean the fruit and vegetables do not contain the level of antioxidants they would have naturally.
Once picked, fruit and vegetables lose their number of antioxidants at an alarming rate. The time it takes to ship them from the field to the supermarkets, therefore, means they will contain far less antioxidants than they did when they were harvested. They might even have lost them altogether.
Fruit that is grown organically and eaten within an hour of being picked has a much greater number of antioxidants present than commercially grown fruit. So if you have the space in your garden or on your balcony, it's a good idea to grow a few fruit crops to eat fresh from the bush and boost your own antioxidant levels.
These fruits include:
Apples – you can now grow apple trees in pots on your balcony or patio
Blackcurrants – these delicious fruits can be made into cordial or eaten raw
Blackberries – they need minimum attention and can be made into deserts and jams
Blueberries – these attractive fruit bushes grow well in pots
Oranges – if you have a conservatory or greenhouse these fruits taste best when fresh
Raspberries – these versatile berries can be frozen for use in the winter
Goji berries – new to the UK, these berries have incredible healing properties and are expensive to buy. Just one bush in your garden will provide handfuls of fresh fruit
Whether you have space to grow a couple of fruit bushes in your garden or not, the evidence supporting the health-boosting properties of superfoods is stacking up, so you should aim to eat at least one superfood every day. Who can resist a punnet of organic blueberries? They taste great, and will keep you looking, and feeling younger too.