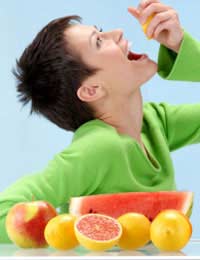 Eating at least five portions of fruit and vegetables a day is important in maintaining a healthy immune system and preventing you from developing diseases such as, cancer, diabetes and heart disease.
Your five a day needn't consist of five pieces of fresh vegetables or fruit. Eating dried or frozen fruit, and drinking smoothies and fruit juices all count, so you can vary your intake.
Why Eat More Fruit?
Processed foods are to blame for a wide range of health problems including type 2 diabetes, obesity and heart disease. These foods contain high levels of saturated fats, salt and sugar.
The World Health Organisation (WHO) has recommended that our diets consist of the following:
Carbohydrates (between 55% and 75% of diet)
Free sugars (below10%)
Protein (between 10% and 15%)
Fat (between 15% and 30% – of which saturated fat should be less than 10%)
Salt (less than 5g per day)
Fruit and vegetables (around 400g a day
Fruit is delicious and nutritious, and can help prevent premature ageing, remove toxins from your body and boost your energy levels. What's more, it's fat-free, cholesterol-free, sodium-free and loaded with vitamins and minerals.
Fruit not only improves concentration and alertness, but it can also improve our memories. It is not known exactly how this is possible, but initial studies have show that our brains recall information faster with a regular intake of fruit than without it. This means fruit can be beneficial for students sitting exams.
Portions of Fruit
Many healthy eating organisations recommend eating five portions of fruit or vegetables each day. Yet a portion isn't necessarily equal to one fruit. Two clementines, for example, make up a portion, and so does a handful of grapes. A portion is roughly equivalent to 80g of fruit.
One portion is therefore equivalent to:
One apple, orange, banana, or fruit of the same size
Nectarines, two plums or fruit of the same size
A generous handful or grapes or berries
A large slice of melon, pineapple or large fruit
One tablespoon of raisins or dried fruit
A 150ml glass of fresh fruit juice or a smoothie
Variety is the Spice of Life
Different types of fruit contain different amounts and combinations of fibre, vitamins, minerals and other nutrients. Eating a wide variety of fruit will therefore ensure that you get a good balance.
Tips to Achieve Your Five a Day
A 150ml glass of unsweetened fresh fruit juice counts as one of your five a day and is a quick and easy portion
Get used to snacking on dried fruit such as apples and mangoes or fresh fruit such as a banana or pear, rather than heading for chocolate and crisps
Liven up yoghurts and your breakfast cereal by adding a handful of berries or raisins, or chopped banana to it
Whether you enjoy fruit naturally, or are interested in eating a more varied, healthy diet, you should make fruit a regular feature in your diet. There are hundreds of varieties to try, and they are delicious fresh, dried, frozen or cooked in pies. You'll soon notice the difference of eating your five a day.