Red and black currants both do well in the UK climate and cope very well with the cooler weather. For this reason, assuming you've decided to try growing either or both then you've likely been rewarded for your efforts. You may need to come up with some ingenious ways of using up these currants now that they are picked and in front of you in their hundreds. The last thing you'll want is to waste them by letting them go bad.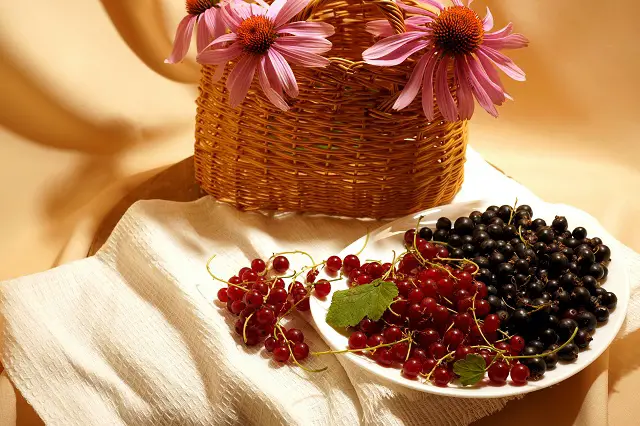 We share some of the popular ways of using up your red and blackcurrant glut so you can enjoy these fruits in many different ways over the months.
---
Freeze
The obvious answer if you can't use up your glut immediately is to simply freeze black and red currants until such a time you'd like to use them. Having these delicious summer fruits available to you all year round can really lift those spirits. They are handy to freeze if you ever want to whizz up a smoothie last minute because they can be used frozen.
---
Smoothies
Both of these berries are a tasty addition to smoothies along with other fruits such as strawberries, bananas, and blueberries. Smoothies are always popular so this is a super way of using up a batch of currants that will otherwise go bad. Of course, they are also full of beneficial vitamins which give your immune system that vital boost.
Simple Blackcurrant And Blueberry Smoothie
50g blueberries
50g blackcurrants
Pot of natural yoghurt
100ml of milk
Blend together.
---
Jam
A firm favourite surely? This is such a fantastic way of using up your surplus red and black currants and they make delicious jam too. Once made, it lasts a long time too, so you can pull it out whenever the fancy takes you. It makes a great cake filler too if you fancy baking a Victoria sponge.
---
Making & Infusing Alcohol
Gin or vodka infused with red and black currants makes a lovely Friday night tipple. Or, to be fair any night – we aren't here to judge! It's super easy to do and will last for ages in an airtight jar meaning you can enjoy a glass when it takes your fancy. You could double up the amount of red or black currants and gift some forwards too.
---
Juicing
Who doesn't enjoy a nice thirst-quenching glass of black currant cordial? A great way to use up your excess black currants and it's not difficult to make either. It only requires a few ingredients and a few simple steps for you to enjoy this summer day's drink.
How To Make Black Currant Cordial
Firstly, you need the following ingredients:
300g golden caster sugar
2 lemons
450g black currants
300ml water
Then you need to:
In a saucepan, combine the water and sugar and heat until it simmers.
While it's simmering, juice your lemon and grate the zest.
Add the lemon juice and the zest to the saucepan.
Then you can add your black currants.
Lower the temperature and continue to heat the black currants until they soften nicely.
Take off the heat and pour through a sieve into a bottle or jar with a lid.
Once cool, pop in the fridge and use within a month or so.
Don't waste what is left in the sieve – you could use it in some baking or add to your favourite yoghurt.
---
Baking
Both red and black currants are perfect for any baked goods you feel like making. Crumbles, cakes, and pies will all use up those surplus fruits Geoffrey they turn bad. Why not prepare a red currant crumble with some custard for the perfect roast dinner pudding? They are also nice as a cake topping or sandwiched between two sponges.
---
Eat Them Fresh
They can be eaten just as they are in many ways. You can make a fruit salad with them, why not add some squirt cream as a naughty treat? You could use them in your morning porridge or granola, or as a topping for some pancakes. They are also very tasty with some yoghurt poured over them.