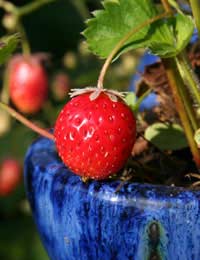 There are many products available for the home grower to make growing your own fruit even easier. These range from small lean-to greenhouses to large-scale polytunnels and little cloches to enormous fruit cages. The products can help prolong your growing season by providing extra warmth, protect your crop from being lost to greedy birds, or help support heavy trusses bulging with fresh, tasty fruit.
Below is a list of fruit growing products and how they can help you:
Plant Pots
Plant pots come in all shapes and sizes. You can get very large pots to house your dwarf fruit trees such as apples and pears, or grow more exotic fruit such as bananas and avocadoes if you have a conservatory or greenhouse. Strawberry pots are a fantastic idea if you have cats or dogs roaming around your garden. The pots raise the strawberries off the ground and have several holes in the sides to accommodate plants that have formed from runners. The pots look great too, and make an attractive addition to the balcony or patio.
Greenhouses and Polytunnels
Whether you have a balcony, small back garden or huge, rambling estate, there's always room to house some form of a greenhouse or polytunnel. These structures help prolong the season by maintaining a warmer environment in which you can start off strawberries for a super-early harvest. They also provide a warm humid environment during the summer months in which many fruit crops, such as bananas and avocados thrive.
Greenhouses can be in the form of a small, lean to frame with two shelves in, or large, Victorian-styled structures with plenty of room to house citrus trees such as oranges, lemons and limes, or more tropical fruits such as pineapples. If you have a really large garden or an allotment, you could consider investing in a polytunnel. This is a larger and cheaper alternative to a greenhouse. Polytunnels help maintain a more consistent air temperature than greenhouses as they cover a greater surface area.
For smaller areas, a cloche might be beneficial. These are small versions of polytunnels, and come in a variety of shapes including bell and rectangular. They can be placed over crops such as strawberries to protect against slug damage and keep them warm so they provide an early crop. You can get cloches with a simple plastic covering or one that's covered with fleece, which will keep your crops warm during the colder months.
Fruit Cages and Netting
If you're serious about growing fruit on a large scale, you shouldn't be without a fruit cage. These permanent structures allow you to walk into them and tend to your fruit, and they provide protection from pests such as birds, who are well known for eating your whole crop before you've had a look in. They consist of a frame covered with netting, and they come in a range of sizes so you can choose the one that bests suit your garden. Most of them feature a lockable door.
If you don't have room for a cage, why not invest in some netting? It comes in a variety of specifications, including those which climbing fruits can use as support, and ones that protect your crops from birds and butterflies. A small, netted cloche can ward off slugs from your prized crop of strawberries, too.
Plant Support
There are frames available to help provide support for cane fruit such as blackberries and raspberries, or stakes which help fruit trees such as apple trees and pear trees grow strong and upright in their first few years of life. You can make your own supports using re-claimed wood treated with linseed oil, but there is a wide variety available from garden centres and internet stockists in a range of budgets.
Whatever equipment you buy, it will be a good investment. Very little beats the taste of fresh, home-grown fruit and a simple fruit cage, greenhouse or cloche will last for years, giving you many seasons of delicious fruit.