Short on space? Looking for some fruit to grow, perhaps more modestly than a huge tree? Then patio cherry trees may well be the perfect solution for your needs. They grow well in pots and with the right care will provide you with plentiful fruit come those summer months.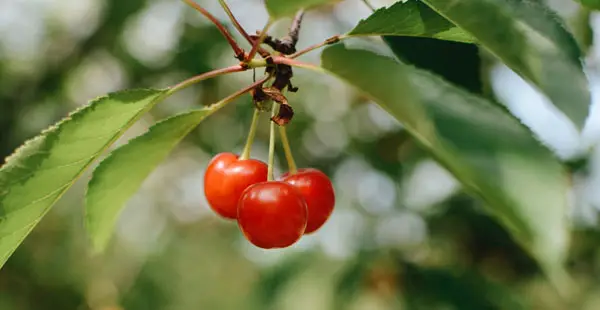 ---
About Patio Cherry Trees
Patio cherry trees are attractive and easy to grow in a pot. They display well both when flowering and also once the fruit has grown. The pink and white blossom flowers will cheer up the spirits and once the fruit comes through your tree will be wonderful shades of deep red.
Patio Cherry trees are earlier to harvest than other fruit trees so you can be enjoying these delights as early as July. Not only this but the tree also takes on lovely Autumnal colours before going dormant for winter.
There's no need to feel dismayed at your lack of garden because a potted cherry patio tree can be placed in a multitude of locations. Windowsill, garden path, balcony, or small patio area – they really are a versatile choice. Trees aren't just for large gardens and the potted variety make the perfect compromise.
Browse and compare fruit deals from top retailers without leaving our site!
---
Best Patio Cherry Tree Varieties
There are several patio cherry trees to choose from. What the best patio cherry tree is will very much depend on your own needs and garden conditions.
Once you have chosen your tree it's yours for life so the decision is important. We've looked at the most popular and widely available potted cherry trees, and have broken down their key features so you can compare.
All of these cherry trees can grow in a patio pot and will remain compact and easy to manage with minimal care.
---
Stella Patio Cherry Trees
One of the more reliable of the cherry trees, Stella cherries are a delight to grow in a container or large pot.
You will be treated with big crops of these cherries which are typically dark red. These can be eaten fresh, straight off the tree and taste delicious. You can have your fill of fruit salads, pies, sorbets, and crumbles – a perfect summer recipe!
Best Feature: most popular dessert cherry.
When To Plant Out: Springtime
Harvest Fruit: July & August
Best Growing Position: Full sun to partial shade.
---
Lapins Patio Cherry Trees
Lapins are a sweet and juicy cherry, often enjoyed fresh and in an array of summer puddings. These trees look stunning in small spaces and you'll be treated to a reliable heavy crop each July.
The Lapin Cherry varieties are easy to grow and hardy, and they thrive in containers. Lapins are robust trees and thrive in the right environment.
Best Feature: Produce heavy crops.
When To Plant Out: Springtime
Harvest Fruit: Mid July
Best Growing Position: Full sun & part shade.
---
Sunburst Patio Cherry Trees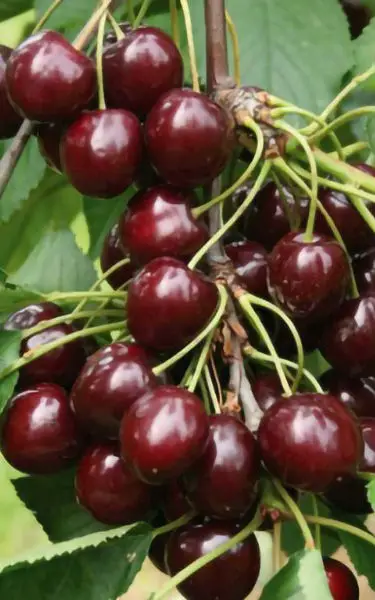 An offspring of the Stella Cherry tree, sunburst produces rich coloured cherries which implode with sweetness when devoured.
Sunburst cherry trees are ideal for growing in pots and being self-fertile, meaning a small space is all that's required. You can enjoy days on your patio smelling and admiring your hard work.
Best Feature: resistant to splitting.
When To Plant: Late Autumn/early winter
Harvest Fruit: Mid July
Best Growing Position: Full sun to part shade.
---
Growing Cherry Trees in Pots – Patio Care Guide
Patio cherry trees will prove a welcome addition to your chosen spot. Even a small area can cope with a potted cherry tree.
It will encourage and support the bees as well as looking pretty in bloom. They are hardy too which makes them popular among UK gardeners.
Here are our quick and easy gardening tips on caring for a container-grown cherry tree:-
Pot Size: 60cm in diameter.
Compost: any well-drained soil.
Watering: must be carried out regularly, daily on hot days.
Feeding: mulch around the base keeps moisture in.
Rootstock: Gisella or Colt
---
Common Pests & Problems
Planting cherry trees may mean you encounter a few stumbling blocks along the way so you must be aware of potential pests and diseases. Learning how to avoid or control these issues means your cherry tree can thrive over the years.
Cherry Blackfly: this is an aphid that enjoys the sap provided on cherry trees. You can see evidence of cherry blackfly by finding curled leaves. Encouraging aphid predators is a great way to control them naturally.
Bacterial Canker: if you spot sunken patches on your tree's trunk you may have bacterial canker present on it. It can be a problem more so when the weather has been particularly wet. Regularly prune your cherry tree to keep this problem at bay.
Cherry Splitting: this is a common problem for cherry trees and is caused by too much rain on the fruit themselves. A polythene cover during wet periods can help resolve this issue.
---
How To Prune Cherry Trees
Despite being one of the easier fruit trees to grow, you still need to prune your patio cherry tree at the correct times of the year.
Pruning encourages new growth and keeps the tree in optimum health. Have a good look at your potted tree and remove any weak or diseased branches.
Any time between mid-May and mid-August is fine for cutting back your cherry tree. You shouldn't prune out of these times unless you notice a damaged branch.
The first few years of pruning are vital as this achieves the overall shape you desire.