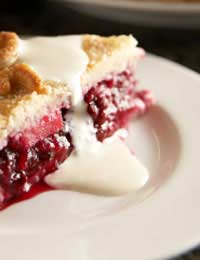 There's nothing like hauling in a giant harvest of fruit from your own garden and thinking about the delicious recipes you are going to make with them. From jams and crumbles to elegant fools, there are plenty of exciting ways to eat your fruit. Below is a selection of delicious recipes you can make using fruit from your garden:
Apple and Blackberry Crumble
Ingredients:
250g (9oz) blackberries
400g (16oz) cooking apples
For the topping
225g (8oz) plain flour
175g (6oz) butter
55g (2oz) Demerara sugar
Method
Preheat oven to 200°C (400°F) gas mark 6
In a large bowl, mix the flour with the butter and sugar and rub it all together until it is in tiny, crumbly pieces
Peel, core and cut the apples into small pieces (it's important that you do this after making the crumble mixture as you don't want the apples to go brown)
Mix blackberries and apples together and place in a shallow baking dish
Use a spoon to gently spread the crumble topping evenly over the fruit
Bake in the oven for 30 – 40 minutes until crisp and golden
Leave to cool and serve with cream or ice cream
Serves six
Blackcurrant Fool
Ingredients:
450g (1lb) blackcurrants
175g caster sugar
150ml (1/4pt) whipped cream
150ml (5fl oz) plain yoghurt
Method
Place blackcurrants in a non-stick pan
Add the sugar and a little water
Bring to the boil and stir them gently until the sugar is completely dissolved
Push the blackcurrant puree through a sieve to get rid of the pips
Add the yoghurt to the cream and mix together
When the blackcurrant puree is cool, stir it into the cream mixture gently
Pour the mixture into glasses and chill in the fridge for 2 hours
Serves four
Gooseberry Jam
Ingredients:
2.7 kg (6lb) gooseberries
2.7 kg (6lb) sugar
Method
Place gooseberries in a pan with 1.1l (2pt) water. Simmer gently for 30 minutes, until the fruit is really soft
Remove from the heat, add the sugar and stir until it has dissolved
Boil rapidly for about 10 minutes. Test to see if it has set, then take the pan off the heat
And pot up into sterilised jars.
Plum Cheesecake
Ingredients:
110g (4oz) plums (halved and stoned)
55g (2oz) unsalted butter
6 digestive biscuits, crumbled
110g (4 oz) low fat cream cheese
For the garnish:
4 orange segments
1 sprig of fresh mint
Icing sugar to dust
Method
Melt the butter in a pan and stir in the biscuits until thoroughly mixed
Take off the heat and spoon the biscuit mixture into a large circular dish or chef's ring
Place the plums on top of the biscuit mix
Top with the cream cheese and smooth the top using a palette knife
Garnish with orange segments and mint and lightly dust with icing sugar
Serves six
Strawberry Cake
Ingredients:
4 eggs (separated)
175g (6oz) sugar
175g (6oz) self raising flour
1 tbsp vegetable oil
4 tbsp boiling water
1/2 tsp vanilla essence
284ml double cream
500g (20oz) fresh strawberries
100g (4oz) hazelnuts (chopped and toasted)
Method
Preheat the oven to 180°C (350°F) gas mark 4.
Grease and line the base of a 20cm (6in) cake tin
Whisk the egg whites in a large bowl until stiff
Add the sugar and whisk until the mixture is smooth, then add the egg yolks
Sieve the flour over the mixture and fold in with a metal spoon
Drizzle the oil, boiling water and vanilla essence into the mixture and fold in
Pour into the cake tin and bake in the oven for 30-35 minutes
Cool the cooked cake on a rack then cut it in to two horizontal pieces
Top one of the cake pieces with half of the cream and half of the strawberries and sandwich the pieces together
Spread the remaining cream over the top and sides of the cake and sprinkle with the toasted hazelnuts. Cut the remaining strawberries and arrange them on the surface of the cake
Serves eight
Berry Nice Smoothie
Ingredients:
1 banana
A handful each of blackberries, blueberries, raspberries and strawberries (or whatever else you have in your garden)
50ml apple juice
A dollop of ice cream (optional)
Method
Slice the banana into pieces and add the ingredients to the blender and mix until smooth
If the mixture is too runny, add another banana
Serve immediately
Serves one