Some problems that are quite fun to have in life, and having way too many apricots is one of them. If your apricot bush has finally provided the goods and you are piled with an apricot glut of juicy yellow fruits then embrace this! You don't need to be concerned that you will have to throw them out if you can't use them quickly enough. There's always so much that can be done with apricots.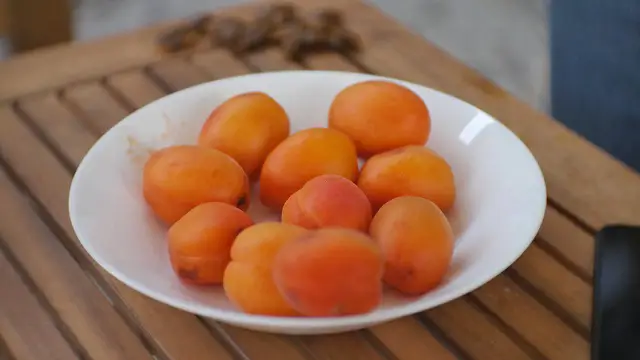 We are here with our favourite ways of using up an apricot glut. You are bound to find a solution to your excess apricot supply by reading our inventive guide. You'll soon be embracing the abundance of apricots you own and all the yummy things you can make with them.
---
Freeze Your Apricot Glut
Can't use them all up now you've picked them? Simply chop in half, remove the pit, and pop in the freezer until you are ready to use them. It's as simple as that and freezing apricots doesn't affect their taste or their health benefits. Even better, if you are stuck for time, they can be frozen whole with their skin on as well. It couldn't be any easier!
---
Make Apricot Smoothies
Smoothies are a really healthy snack for those fussy kids who aren't a fan of fresh fruit. They are an ideal way of using up those apricots that are getting a bit soft to the touch. You can also blend up your frozen apricots so making these smoothies won't take long at all.
How to Make Apricot Smoothies
Wash your apricots well.
Cut your apricots in half and remove their pits.
Pop in the blender and add half a cup of milk.
Add half a pot of your preferred yoghurt.
For a sweeter smoothie you can add 2 tbsp of honey.
Whizz up and pour.
---
Make Apricot Jam & Chutney
Apricots are versatile and can be used as a sweet jam and as a savoury chutney. Why not go completely wild and make both? Once you've made the jam and store it with a lid it will last ages. Perfect on your morning toast or your fruit scone with some clotted cream. Apricot chutney is delicious on crackers and served on chicken.
---
Make Boozy Apricot Treats
Why not make up your favourite tipple with the help of your excess apricots? They can be used to make vodka, bourbon, brandy, and liqueurs. A warning apricot-infused drink before bedtime will warm the soul. It can also make some stress-free gifts for Christmas – everybody loves a homemade effort.
---
Bottling and Canning
We all know the apricot season is far too short so there's something pleasurable about extending their life. On cold dreary winter days you can reach for your jar of apricots and eat them straight out the jar. They are also perfect for cakes and other recipes and best of all they will last for 6 months unopened. Bottling fruit is easy and straightforward, and bottled apricots make a great Christmas gift.
---
Drying Apricots
Dried apricots are a fantastic healthy snack instead of reaching for the tempting biscuit tin. They are also pretty easy to dry and the texture of these fruits make them the perfect fruit to dry out.
Follow Our Simple Drying Guide Below:
You are best choosing ripe apricots that are not too firm.
Wash them under cold water and dry.
Cut your apricots in half and remove the pits.
Push the outside of each halved apricot up so that more flesh is exposed.
Line a baking tray with some paper and pop the halved apricots flesh side up.
Pop in the oven for around 10 hours at the lowest possible temperature.
You might want to turn them halfway through the cooking time so they dry evenly.
Take out and store in an airtight Tupperware box.
---
Baking with Apricots
Apricots make a delicious ingredient in your baking efforts. They can be used in cakes, pies, tarts, crumbles, ice cream, and muffins. Why not make a big batch of cakes and surprise your nearest and dearest with some?