You should never underestimate just how well rhubarb grows in the garden with the right amount of rain and sun. The small patch you envisioned being perfectly sizeable for your rhubarb collection is now looking decidedly small. Does this sound familiar? Are you now wondering where all this rhubarb has come from, where it's going to go, and most importantly, who is eating it?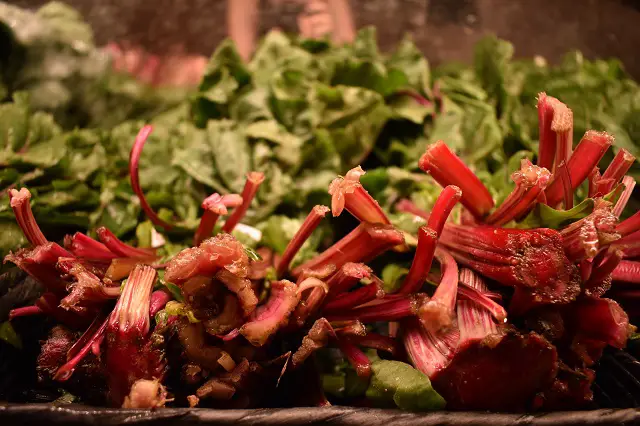 We are here to share some ingenious ways of using up your rhubarb glut so give yourselves a pat on the back for producing so much of the stuff. You'll never have any leftovers to worry about ever again.
---
Freeze Your Rhubarb Glut to Use Later
So much rhubarb but yet so little time to produce anything with it? You can freeze your rhubarb until you have the time to cook with it. Simply chop, flash freeze, and then bag it up into decent portion sizes. Rhubarb freezes perfectly well and can last up to a year in there too! Freezing means you can enjoy it throughout the year, not just in the spring.
---
Making Rhubarb Smoothies
Rhubarb makes the perfect smoothie ingredient and it's a great way of using up that excess supply. Combined with fruits such as banana, blueberry, or strawberry, you have a super tasty drink on your hands. Let's not also forget the health benefits of a fruity smoothie – getting those vitamins inside your kids has never been so easy!
Simple Rhubarb, Raspberry and Banana Smoothie
A pot of plain yoghurt.
2.5 cups of rhubarb either chopped or stewed.
2 cups of raspberries.
1 tbsp lemon juice.
2 chopped bananas.
Blend all of the above ingredients together and enjoy.
---
Rhubarb Glut Jam & Chutney
Rhubarb jam is an ideal way of using up large quantities of rhubarb and it freezes well too so you can make up batches. Perfect for spreading on bread, using on cakes, or popping on your fruit scone. Or why not make some rhubarb chutney for a more savoury approach? It compliments meat dishes wonderfully or you could make up a lovely ploughman's style lunch.
---
Rhubarb Infused Alcohol
Rhubarb and ginger gin, anyone? This tipple is lovely and refreshing in the summer but also warms the soul on a chilly winter's evening. Having your own gin to hand saves you pennies and will be far tastier than the shop-bought stuff. They work great as Christmas gifts too which is a great way to use up your excess supply of rhubarb.
---
Homemade Rhubarb and Ginger Gin
Wash your rhubarb well.
Chop up into small sized pieces.
The more pink the rhubarb the pinkier your gin will be.
Slice some ginger (you can leave the peel on).
Pop the chopped rhubarb and sliced ginger into a jar.
Add 400g of caster sugar.
Pour in your preferred gin.
Shake daily for the first few days to dissolve the sugar.
You can use the gin after about a month.
---
Bottling and Canning
No room in the freezer for your glut? Don't panic, you can bottle or can your rhubarb instead. There's something very rewarding about doing this and having it to hand whenever you need some. It's like bottling up spring to use at a time to suit you!
---
Give Away Your Rhubarb Glut
Why not pick some bunches of your rhubarb and leave out the front with a "help yourself" sign. This small gesture will really make someone's day and you'll know they will soon be tucking into something delightful too. Last year when I was walking my dog, a keen gardener stopped me as I walked past his garden. He handed me a huge pile of rhubarb, telling me he'd never use it all up. I went home and made a wonderful rhubarb crumble and froze the rest.
---
Baking with Rhubarb
When all else fails, you always have those favourite baking recipes to make. Baking is a fun way of using up a glut – you could get the kids to help! Try your hand at some cakes with rhubarb topping, or a crumble, or why not make a rhubarb upside down cake? Perfect for those chilly nights after a hearty roast dinner.