Raspberries are one of the easiest fruits to grow in your garden and after a year or two can produce a raspberry glut that needs using up. This is always exciting and nothing is more rewarding than seeing those berries develop. However, they do produce a decent amount and raspberries do not last long sadly once they've been picked. For this reason, sometimes having so many raspberries growing at one time can make you fear there will be some that go bad.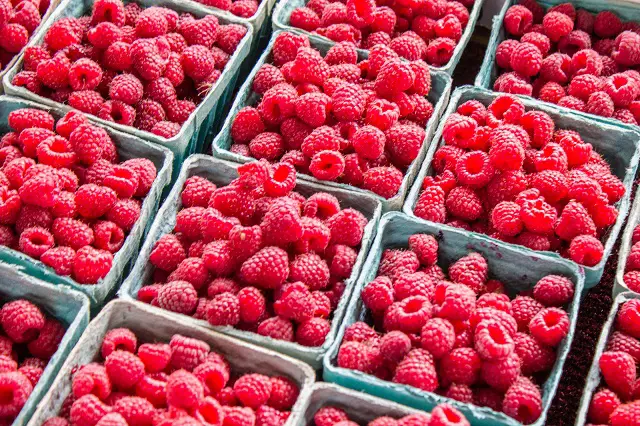 However, set aside those worries because we are here to tell you that those raspberries can be used in so many ways. Get those creative juices flowing and try out some of our ideas below for using up a raspberry glut. After reading this you'll be hoping you have far too many raspberries on your hands! What a fun problem that will be!
---
Freeze Your Raspberry Glut
Surprisingly, raspberries freeze quite well as long as you choose firm ones from the offset. You can either freeze them whole or blend them first and freeze – perfect for those smoothie and ice cream recipes! They just need a quick wash and then they are ready to be frozen.
---
Make Raspberry Glut Smoothies
Who doesn't love a smoothie? Even most kids will happily take a smoothie when offered – it's so much nicer than chomping on a piece of fruit! It's also a very productive way of using up an abundance of mushy raspberries. You don't even need to thaw them first when using them in a smoothie – if it couldn't be any easier.
Try This Tasty Raspberry Smoothie Recipe
50g raspberries
Other optional fruits such as strawberries or a banana.
3 tbsp of yoghurt
1 tsp honey
Blend together and enjoy!
---
Raspberry Jam & Chutney
Raspberry jam seems to be one of those iconic flavours that every household has in its possession. Why buy when you can make your own at a fraction of the cost using your own fruit? Perfect for scones with clotted cream, sandwiched between layers of Victoria sponge cake, or on your Morning toast.
---
Infuse Your Raspberries with Alcohol
Raspberries are so popular when it comes to alcohol making – their acidity accounting for this popularity. You can make raspberry beer, whisky, vodka, or gin – something to suit all tastes. Infusing your own alcohol is fun and rewarding – you could make some up and gift it to a friend too. Why not share that love!
Homemade Raspberry Vodka
Add raspberries to some glass airtight jars, they can be fresh or frozen.
Add half a bottle of vodka into each of the jars.
You'll need one cup of sugar also added to each jar.
Pop the jars closed and give each one a good shake.
Leave in a dark place and shake every few days.
Use after 3 weeks.
---
Bottling and Canning Raspberries
Bottling your raspberries is a great way of preserving  a glut of them ready to use in desserts, cereals, or simply to eat fresh. If you find yourself with a surplus supply of raspberries and have some jars laid around then why not make some to enjoy at a later date. All you need is some sugar and water added to the raspberries.
---
Give Away Some of Your Fruit Crop
Instead of worrying about what to do with all your berries, just enjoy the experience of picking your own. Once picked, you'll soon come up with ways of using them – pop them in a fruit salad, as a cake topper, add to your favourite cereal, or make some ice cream. Alternatively, give them away to friends and neighbours.
---
Baking with Raspberries
Baking is always a great way of using up excess raspberries and making tasty treats is always a fun way to pass the time. Your mouth will be watering at the thought of all the delightful goodies you can make – why not try your hand at a raspberry cheesecake or a raspberry and lemon cake?
---
Make Raspberry Vinegar
An easy and tasty way of using up that raspberry glut is by making your very own raspberry vinegar. These can be used in salads, used on meat recipes, drizzled over mushroom risotto, or whatever else takes your fancy. It's much more cost-effective than buying your own dressings too.