If you've never eaten frozen grapes as a juicy treat on a summer's hot day then you've seriously been missing out. With this in mind, we're going to show you that you can freeze grapes and make delicious treats.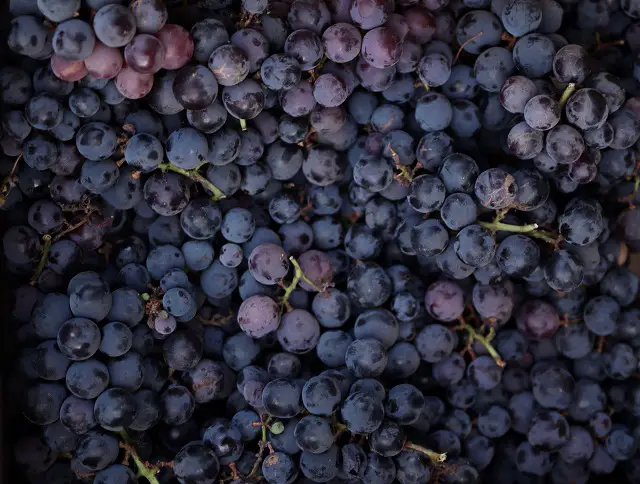 This is great news if you've been growing grapes successfully in your garden and have a grape glut, or you couldn't resist the bargain section at the supermarket!
Even if you have some that have gone a bit soft, they'll still freeze well so don't contemplate throwing them out.
---
Can you Freeze Grapes?
You can successfully freeze any colour or variety of grapes. Green grapes tend to be a little less sweet than other varieties but are still great tasting.
Freezing grapes is handy for smoothies, jam, eating as they are, and a quirky alternative to ice cubes in your choice of tipple.
---
Preparing Fresh Grapes For Freezing
There's next to no prep involved in preparing your grapes for the freezer which is great when life is so busy. Simply wash, dry, and remove the stems.
---
Freezing Grapes – Top Tip
Before you freeze your grapes, take the stems off first – you'll thank us later! It just saves faffing around before eating them and means you can pop straight in your mouth – yum!
---
How Should Grapes Be Frozen?
Freezing grapes couldn't be any simpler, especially as they can also be enjoyed frozen. Still, we provide you with a step by step guide to getting your grapes in the freezer to use later.
The most common way to freeze grapes is whole, using a flash freezing method. This means laying them out flat on parchment and freezing them, before putting them in a storage container once they have frozen
Follow these simple steps and preserve your grape harvest to use later:-
Select your grapes for freezing and wash them well.
Leave on a towel to air dry.
Remove the stems once they have fully dried.
Line a tray with baking paper and spread the grapes out evenly.
If you have a lot of grapes you may need to do this several times.
Pop in the freezer overnight.
Once fully frozen you can bag them up into portions or pop in a container.
Put them back in the freezer with a label ready to be enjoyed as and when required.
---
Should You Freeze Seeded Grapes Or Seedless?
You can freeze both varieties as the seeds in grapes are completely edible.
If you plan to use your frozen grapes as a snack then you might prefer to go with seedless so you don't get that extra crunch! For the purpose of smoothies, seeded ones add that extra texture and are perfect.
---
How Long Should Grapes Be Frozen?
Once you've frozen your grapes you can leave them in the freezer for up to 12 months so that's a whole year's supply of treats.
Don't forget to make sure they are in a well sealed freezer container or bag. If you are opening a container to take frozen fruit out to use, make sure you seal it up again. Freezer burn can compromise the quality of the fruit and reduce it's storage life.
---
How To Defrost Grapes Before Use
We've already pointed out how delicious (and nutritious) frozen grapes are but you can opt to defrost them too. Simply remove from the freezer in their container and leave to thaw in the fridge overnight.
---
Grape Freezing FAQs
Need to know more? We've answered some of the most commonly asked questions about storing grapes in the home freezer.
How long do grapes take to freeze?
Grapes will differ in their freezing time depending on the amount you are trying to freeze and the variety. By flash freezing your grapes, you speed up the process and also it stops them all from forming one big clump. Grapes laid out in a layer will freeze over a few hours or you can leave them overnight and then bag.
Can I freeze grapes for smoothies?
You can freeze grapes for smoothies and they add a lovely sweetness to the drink that you don't get from other fruits. They will add an almost ice-like texture to your smoothie which is ideal for those warm summer days. Frozen grapes do not need to be thawed before adding to your drink – just chuck them in and enjoy.
Can you freeze grapes and eat them later?
Grapes can be frozen and eaten later as a healthy snack. They make a great treat during the warm summer and work as a tasty bite for anyone on a health kick. Simply flash freeze and then divide into portions and pop in freezer bags. They will last up to 12 months in the freezer – perfect for a glut.
How to freeze grapes for wine making?
Freezing grapes for wine making is very simple and they will stay fine in the freezer for up to 12 months. Simply prepare trays and lay out a single layer of grapes per tray and flash freeze for at least 2-3 hours. Once they have frozen you can pop them into sealed freezer bags or containers with a label for reference.