Are you lucky enough to have a tree full of figs ready to be enjoyed? One of the most versatile fruits there is, figs are delicious as a snack or in baked goods. They can be quite pricey to buy in the shops so it's always tempting to buy a bulk of them when they are on offer.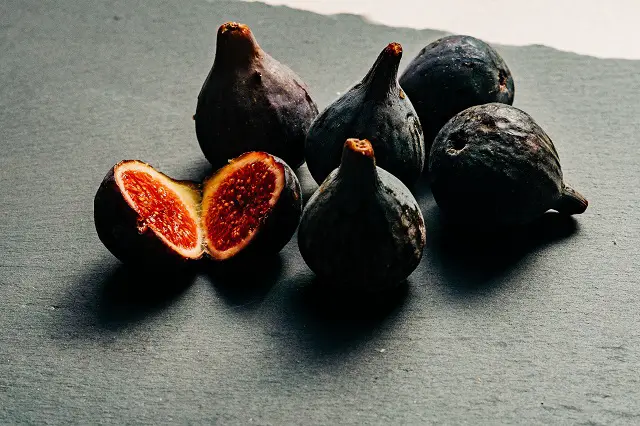 Is your worktop now full of these delicious treats and you're wondering how to use them all up? What a lovely conundrum to have in life! We share some fantastic ways of making those figs last for a long time and in many cooking methods. Sit back and enjoy that glut of figs – there will never be any waste again.
---
Freeze
Freezing your figs is a great way of preserving their shelf life and it's handy when you can't use them all immediately. They freeze just fine and it means you have them safely stored for when you need them.
---
Smoothies
Preparing a smoothie full of figs is a tasty treat and also an effective way of using up ones past their best. Whizzing them up in the blender allows you to make good use of ones you'd probably throw away otherwise. Fig and honey smoothies are delicious – give them a try!
Fig And Honey Smoothie
Grab a handful of good-sized fresh figs.
Pour in a pot of yoghurt.
Add a tablespoon of honey.
Add ½ cup of milk.
You can add any other fruits you like as well.
---
Jam
Figs make a wonderful jam if you fancy using up some of your glut in this way. Fresh figs have a sweet taste, with a hint of cinnamon, which works perfectly as a jam. Once you've made it you can make it last for quite some time and you could even make some for friends. The seeds add a bit more texture to the jam so there's no need to de-seed them first.
---
Making and Infusing Alcohol
Craving some fruity vodka that you can drink in your PJs and slippers rather than venturing out? Why not make some of your very own – it's easy to make and doesn't take much prep at all. Given the fact that figs are packed full of goodness then surely drinking fig infused alcohol actually has some health benefits? Maybe a stretch to be fair, but it's still fun to prepare and sample!
---
Bottling and Canning
Figs have a short season so the idea of being able to preserve them in your own kitchen might be very appealing. It's also pretty simple to do so you can enjoy them whenever you fancy. You just need to gently simmer your figs over low heat with sugar until they are soft and then follow the bottling fruit instructions.
---
Baking
There are so many baked goods that are delicious with figs – they compliment both sweet and savoury dishes. They can be grilled or roasted until they almost caramelise at which point you can serve with some yoghurt or ice cream. Figs are a great addition to summer salads almond with walnuts and cheese. You can also bake figs as the perfect winter warming pudding.
---
Dried
Drying your figs instead of eating them fresh is a nice alternative if you feel like a change to the norm. Follow our easy guide to drying those figs ready to enjoy. Just make sure you do this during some nice sunny weather!
Select ripe figs and wash them well.
Dry the figs with a towel.
Chop the figs in half as they will dry evenly this way.
Place the halved figs onto the inner of a grill pan or a cooling rack – something that allows the air to get through.
Pop a towel over the figs to protect them from insects during the drying process.
Place the rack on a sunny windowsill for 3 days. Make sure you take them off the windowsill at night so they don't get damp with dew.
Turn them regularly during the day.
Check them daily and when they are fully dried with no juice they are ready to be stored and enjoyed.