It is very handy to know how to freeze figs because once they've ripened, they don't have a long shelf life at all. Has your fig tree produced an exceptional amount of fruit this season? Or perhaps they were on offer at your local shop and you just couldn't resist that bargain? Whatever the reason for your excess figs, you can rest easy knowing you can freeze them to stop them being wasted.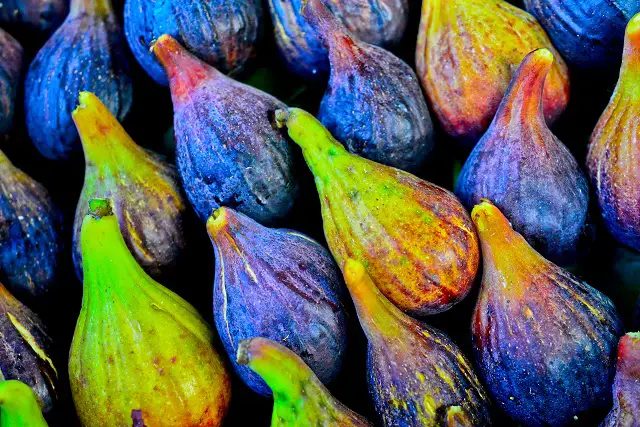 Figs are such a versatile fruit and as such they can be used in both sweet and savoury dishes. As a main meal, they are very nice roasted with honey chicken or wrapped in bacon and cheese. For a delicious sweet treat, they are delightful in cookies, cereal bars, jam, and of course, figgy pudding. If you have a glut of figs to deal with, there are a whole host of dishes that can be made with them. Don't have time? Our guide on freezing figs will he
---
Preparing Fresh Figs For The Freezer
You will need to choose fresh figs for freezing that are ripe and not soft or squishy. Wash the figs well and let dry. You can remove the stems and peel too if you wish.
Top Tip – Freezing Figs Whole?
You can opt to freeze figs whole – great for time-saving and you have the room in your freezer to do so. They do tend to lose their texture a little once they've been frozen so don't expect the look and feel once it's defrosted. To freeze whole, you can leave the peel on or opt to peel them first. Remove the stems and pop in a freezer bag and into the freezer.
Please Note: Once you've frozen your figs they will not look or feel quite the same once they've been defrosted. This being said, you probably won't want to eat them on their own as a snack as they'll have lost their firmness. However, they will be great in jam, in baked goods, or whizzed up in a smoothie recipe.
---
How Should Figs Be Frozen?
Figs can be frozen in a variety of ways to suit you and your preferences. Keep reading as we talk you through your options for freezing your figs.
Freezing Sliced Figs
This method is handy for quickening the time it'll take to defrost them. It also means you've done the prep before freezing so they will be ready to use once they've thawed.
Wash and dry your figs.
Peel them and remove all stems too.
Cut them into quarters.
Prepare a tray with some baking paper.
Spread the fog quarters out evenly on the tray.
Pop in the freezer overnight to flash freeze.
In the morning transfer the frozen figs to sealed bags or containers.
Pop back in the freezer ready for your convenience.
Freezing Figs In Syrup
You can opt to freeze your figs in a syrup or sugar – this has the benefit of retaining some of the texture.
Prepare your figs for the freezer as above.
Sprinkle some sugar over the slices.
Make sure the sugar has evenly coated the figs and leave to sit for 15 minutes.
Pop the sugared figs into a suitable container and freeze.
How To Defrost Figs Before Use
It couldn't be easier to freeze those figs. Simply take them out of the freezer the night before you need them and put them in the fridge. They will thaw nicely overnight ready to be used the following day.