Mulberries grow in the wild very well and you may well see trees full of them in your local parks or green areas. If you've never noticed them before then mulberries are those purple berries you get on the ground that stain your shoes! They are an interesting fruit with a nice flavour so if they are growing in your area grab as many as you can.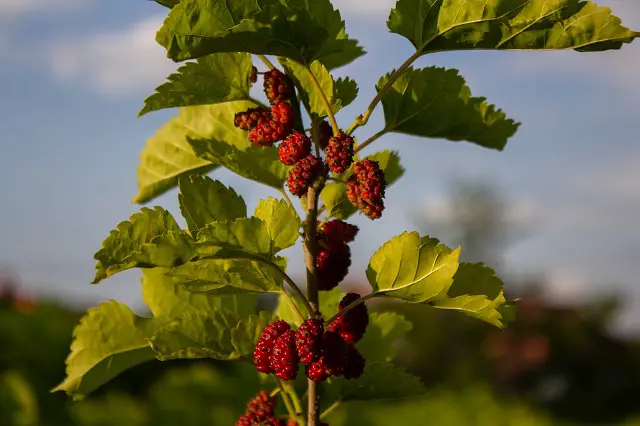 Should you have your very own mulberry tree growing in your garden then lucky you! There's no need to feel overwhelmed by the number of berries you have this year either.
We share the very best ways of using up gluts of mulberries. By the time you've finished reading, you'll be hoping for hundreds of mulberries every year!
---
Freeze
You can breathe a sigh of relief because you can indeed freeze mulberries. It doesn't affect their taste as long as you use them up within 6 months. Freezing these berries is super handy for things like smoothies, sorbet, and jam because you don't need to thaw them first. They don't take long to thaw if you need them defrosted, either.
Top Tip: Why not freeze a mix of berries together after flash freezing so you already have portion sizes sorted for those smoothies or jam recipes?
Want to learn more about how to freeze mulberries? Our detailed freezing and storage guide will show you how!
---
Smoothies
As with many home grown fruits, mulberry fruit is delicious as part of a breakfast smoothie and very easy to make as well. Mulberry smoothies are a great way of giving your body a healthy kick before a busy day. Not only this, but they taste incredible too! You can pair theseo with other berries of your choice and maybe some banana too.
---
Jam
Making some jam up is a great way of using up an abundance of mulberries. You can either make simple mulberry jam or you can be creative and add some other berries to make a mixed berry jam. If your mulberry glut is very big then you could make enough jam up to give to others such as neighbours and friends.
---
Making and Infusing Alcohol
Mulberries are ideal for using in alcohol and the fruity flavours will not disappoint, we promise. Whether you want to make some summery cocktails for those sticky evenings or perhaps a bottle of vodka is more your thing? Whatever takes your fancy, using up a glut of mulberries in your favourite tipple is a great use for them.
---
Ice Cream And Sorbet
How about using up your mulberry abundance in some ice cream or sorbet for those balmy summer days? Again, you can make the ice cream or sorbet with a variety of berries to suit your personal preferences. Once you've prepared either, they will last for months in the freezer too.
---
Baking
Of course, you can enjoy many baked goodies with the help of your excess mulberries. You could make a winter warming mulberry pie or a summer afternoon's tea with some mulberry scones. You could make double the amount you'd normally do and take some into the local school or churches.
---
Picking
Let's not be daft here – if you have mulberries growing in your garden, then it's likely you'll have hundreds of these purple gems. Invite your friends, tell your neighbours, pop an ad in the newspaper! Just tell anyone who comes to use gloves for the picking process – they'll thank you later!
---
Enjoy Fresh
You don't even need a recipe to use up a supply of mulberries – just get eating them! You can enjoy them as part of a healthy snack. You could even try your hand at drying them as a tasty alternative. You can also pop mulberries on your morning cereal or enjoy by mixing with some yoghurt – both are very tasty.