Foraging is great for the soul (not to mention the purse strings) and it's a great way of bringing home a glut of quinces. Likened to pears and apples, quinces have a distinctive flavour and are lovely in desserts. Perhaps you have your own supply of quinces thanks to a tree in your garden. Or maybe you saw some at your local market and were curious to try these unusual fruits?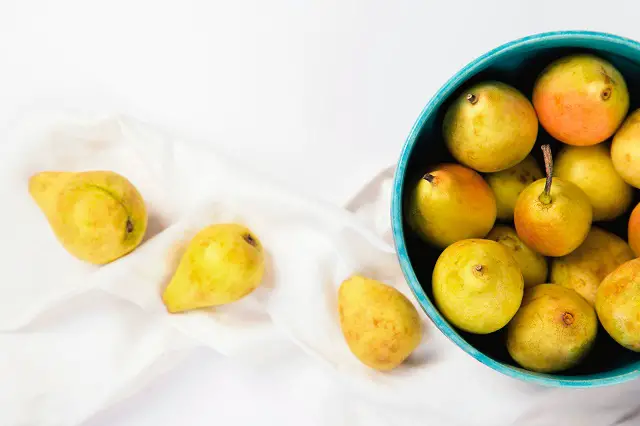 Whatever the reason for you wondering what to do with a glut of quinces, you can be rest assured there are many ways to use up too much quince fruit. Whether you'd like a handy way to store them or a way of using up a lot in one go – there's something for everyone in this article.
---
Freeze
Sometimes you might assume you cannot freeze fresh fruit – you worry it'll lose its texture or taste. You'll be relieved, therefore, to learn that quince will freeze just fine. Once you've frozen it, you can keep it in the freezer for up to 12 months which is useful if you don't want to use it right away. Our guide on how to freeze quince will show you how to store these delicious fruit in your home freezer to use at leisure.
---
Smoothies
Perfect in smoothies, quinces can be used in this way if you'd like to make good use of your glut. It's great for those that have perhaps gone past their best too. Whizz up with a few other fruits of your choice and you can enjoy this refreshing drink packed full of goodness.
The Perfect Quince Smoothie
In a blender put in a peeled quince, chopped banana, and strawberries.
Add some milk and yoghurt of your choice.
Blend together for a tasty and healthy breakfast alternative.
---
Jam
Quince jam is very simple to make and you only need a few ingredients for the job. It makes an ideal jam due to being rich in pectin. Use in your sponge cakes, on scones, or as an accompaniment to a cheeseboard.
---
Making and Infusing Alcohol
Brandy quince anyone? You heard it here first and what a nice way to warm the soul on a chilly evening. Imagine being able to pull out a jar of homemade quince brandy when you have friends over – they'll all be begging for some. Once you've prepared your tipple you can leave them in a cool dark place for around 6 weeks. Try to shake the jars every so often but otherwise, they can be left alone to do their thing.
All You Need For Quince Brandy Are:
Some fresh and ripe quinces.
A bottle of brandy.
Some cinnamon sticks (optional)
To Prepare The Quince:
You'll need to wash the fruit well to remove any dirt.
You can either chop your quince into small chunks or you can grate it.
Pop the quinces into the jars and add the cinnamon too.
Top the jars with your tipple and seal.
Leave it for around 6 weeks and they will be fine for up to a year.
---
Baking
Quinces are ideal in many of the traditional apple dessert recipes such as baked with cinnamon, used in pies, and also in crumbles. It will taste wonderful with some hot steaming custard or some simple vanilla ice cream. Baked and poached quinces are very popular and often taste much sweeter when eaten this way.
---
Glaze
If you fancy a really fruity and tart glaze to compliment the meat of your choice then quince will do the job brilliantly. As well as being a nice addition to a traditional roast dinner, you can also prepare a glaze for vegetables to be soaked in. You won't be disappointed – it adds a unique taste to your dish and will be a hit with everyone.