You know summer is well underway when cherries start appearing in the markets and shops. It would be almost rude not to stock up while they sit there temptingly on the shelf. Or maybe your fruit garden has produced a cherry glut and you are surrounded by many delightful cherries.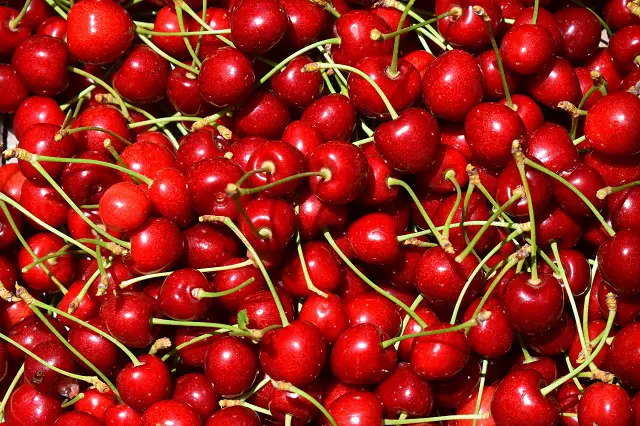 The thought of so many of these summer fruits being to hand from your own garden is perhaps very exciting. However, the reality is that you've now got more than you can possibly eat quickly enough. Cherries are one fruit you never have to worry about having too much of because their versatility is amazing.
Not quite sure what to do with your cherry glut? It's a good job we've done the thinking for you then.
---
Freeze Your Cherry Glur
Wondering what would happen to the taste or texture of cherries if you were to freeze them? Cherries freeze well and won't lose any of their goodness either. Once you've pitted your cherries you can freeze them right away and defrost when you would like to use them.
---
Smoothies to Use up Cherries
Running late and not got the time to whip everyone up a breakfast before the morning chaos with your cherry glut? Why not whizz up a smoothie instead? Kids love smoothies, adults love smoothies – win-win! Packed full of vitamins and minerals and they are such a tasty treat to enjoy too. Below we share how to make a very simple cherry and banana smoothie.
Cherry and Banana Smoothie
Pop the cherries straight into the blender. Frozen cherries are great for smoothies.
Add in a couple of chopped bananas.
Pour in some milk and yoghurt for an extra creamy smoothie.
You can add a drop or two of vanilla or almond extract if you would like to.
Honey is also optional if you'd like a sweeter smoothie.
Blend everything together and enjoy.
---
Cherry Glut Jam & Chutney
Cherries are perfect in both jam and chutney meaning they compliment both sweet and savoury dishes. You can enjoy some cherry jam on some homemade bread during those chilly autumn mornings. Or why not treat the family to a ploughman's lunch with some string cheese and cherry chutney?
---
Drink Your Glut – Making & Infusing Alcohol
Cherries are very popular with brandy lovers and it's another economical way of using up your cherry glut. A drop of brandy before bedtime will surely make for a great night's sleep? You could make a batch around November time and gift them out at Christmas time – even Santa would like some!
Making Cherry Brandy to Use Up Extra Cherries
Wash 600g of cherries, removing the pits and the stems.
Wash out a suitable glass jar with an airtight lid.
You will need half a bottle of your choice of brandy.
Pop the cherries and the brandy into the glass jar.
Add around 2 tbsp of castor sugar.
Shake well and put in a cool dark place for 2 weeks.
You might want to shake the jar every few days.
When ready to drink you can sieve your brandy and serve.
---
Bottling and Canning Cherries
If you'd like to preserve your cherries and pull them out when they are no longer in season, then canning them might be the solution for you. It's super easy to do and they last up to 12 months once canned.
---
Chocolate Dipped Cherries
For a naughty but nice treat, why not dip your cherries into some dark melted chocolate? A perfect afternoon snack and so quick to do. You just need to melt some chocolate, hold the washed cherry by the stem, and dip in the chocolate. You can then pop into the fridge to set if they last that long!
---
Baking with Cherries
So many delightful recipes can be made using cherries. If you've frozen your cherries, then you can whip up a cherry pie during those cold winter months. Or perhaps make some gooey cherry brownies or some rocky road cake. So many possibilities are available if you are lucky enough to have a glut of cherries to use up.