There are so many ways of using up a glut gooseberry glut so never worry about having to waste any again. If you've had an exceptional growing year with your very own gooseberries then you can look forward to many wonderful ways of putting them to use. Or, couldn't resist a seasonal  bargain at the shops? Worry not, we'll give you some food for thought, pardon the pun!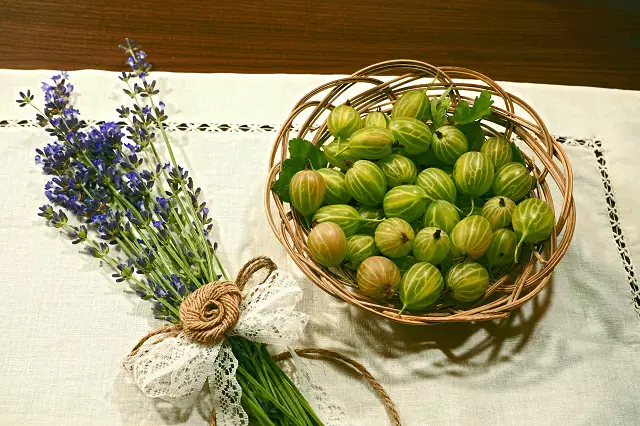 Keep reading if you've found yourself with an abundance of gooseberries – the possibilities are endless.
---
Freeze Your Gooseberry Glut
Not quite got the time for dealing with your Gooseberry glut right away? That's not a problem, simply freeze your gooseberries them until you have time back on your side. They freeze well and last for up to 2 years once they've been frozen. Once you've picked your fruit  you should aim to freeze them right away, retaining the quality.
---
Gooseberry Smoothies
Preparing smoothies is an ideal way of using up a gooseberry glut – particularly ones past their best. You'll probably want to add in a few additional fruits because on their own, gooseberries can be a little tart.
---
Gooseberry Infused Alcohole
Gooseberries are popular for both vodka and gin enthusiasts and are super easy to prepare from the comfort of your own home. There's something comforting about making your favourite tipple and having it on your shelves for your disposal. They also make wonderful gifts whether it's Christmas or a special birthday.
---
Homemade Gooseberry Gin
Wash 300g of gooseberries and top and tail them.
You want to release the juices of your gooseberries so poke some holes into the flesh.
Pop the gooseberries into your jars and add a bottle of gin and 150g sugar.
Shake well and pop in a cool, dark place.
Shake regularly to mix up the concoction.
Taste the gin every few weeks until it meets your requirements.
---
Bottling and Canning
Preserving your excess supply of gooseberries keeps them nice and fresh until you are ready to use them. For this reason, bottling or canning your surplus gooseberries is a great way of avoiding any waste. They can go a little wrinkly though so you may find pricking them first will stop this from happening.
Pick Them and Share the Glut
Gooseberries can be a bit on the pricey side being a seasonal fruit so why not ask your friends and family over to pick their own? This will ensure nothing gets wasted and many others get to enjoy their deliciousness. Why not pick a basketful and pop them on your neighbour's doorstep as a nice surprise?
---
Gooseberry Glut  Jam, Chutney, And Sauces
Gooseberry jam is delicious, full of flavour, and a great use for your glut. You could even try your hand at some gooseberry gin flavoured jam. You can also make some lovely chutneys using gooseberries which compliments those cheese boards wonderfully. Why not prepare a ploughman's lunch and add some chutney? Yum! Gooseberry sauce works well in savoury dishes too.
---
Baking with Gooseberries
You can turn to baking as a way of using up your gooseberries too – you'll have lots of yummy bakes to sample. Why not make a crumble, a tart, or some sponges? There is something very tempting about tucking into home baked goods and gooseberries are so versatile.