Gooseberries are a very 'British' fruit and feature in a number of traditional dishes. Recipes for gooseberries are often simple, traditional, and delicious. We've included a recipe for gooseberry fool, a dessert that's been a favourite in British cooking for centuries.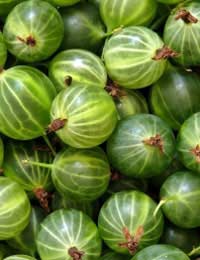 You're most likely to find green gooseberries in the shops but look out for the red or golden dessert varieties that appear later in the season. These can be eaten raw and should have a grape-like firmness. If you have been growing gooseberries and have a glut of fruit, these recipes will serve you well.
Because the tartness of the green gooseberries will vary, you may need to adjust the quantity of sugar you use to suit your taste.
---
Gooseberry Crumble Recipe
450g gooseberries
2 generous tablespoons caster sugar
200g plain flour
150g margarine
100g caster sugar
Preheat the oven to 180°C, gas mark 4.
Wash, top and tail the gooseberries using scissors, and place half in an ovenproof dish. Sprinkle over 2 tablespoons caster sugar and top with the remaining gooseberries.
Sieve the flour into a bowl and add the margarine. Rub in with your fingertips until you have a breadcrumb-like mixture then stir in the sugar. Tip the crumble over the fruit, covering evenly. Bake for about 40-45 minutes.
Serve hot with ice cream or cold with custard.
---
Gooseberry Fool Recipe
450g green gooseberries
2 tablespoons caster sugar
150 ml double cream
Preheat the oven to 180°C, gas mark 4.
Wash, top and tail the gooseberries. Place in an ovenproof dish with a tightly-fitting cover and cook in the oven until soft. Press the fruit through a sieve into a bowl. Stir in the sugar. Taste and add more sugar if necessary. Leave to cool completely. Whip the cream until its consistency is similar to that of the puree. Fold the cream and puree together and pour into a glass serving dish.
---
How to Make Gooseberry Sauce
Gooseberry sauce is traditionally served with mackerel, its sharpness cutting through the oiliness of the fish.
450g green gooseberries
2 tablespoons water
20g butter
25g caster sugar
Wash, top and tail the gooseberries and place in a saucepan with the water and butter. Cover and cook very gently until the gooseberries are perfectly soft. Press the fruit through a sieve and return the puree to the pan. Add the sugar and cook gently, stirring until the sugar has dissolved.
---
Green Gooseberry Jam Recipe
1½ kg green gooseberries
600 ml water
1½ kg granulated sugar
Put a clean saucer in the fridge to chill.
Wash, top and tail the gooseberries and place in a large pan with the water. Bring to the boil and simmer for about 20 – 30 minutes until the skins are quite soft. While they're simmering mash gently to break the skins to allow the juices out. Add the sugar and stir over a low heat until dissolved then bring to the boil and boil briskly for about 10 minutes.
Top Gooseberry Jam Tips
Don't let the mixture boil until the sugar has dissolved or the jam may crystallise in the jars.
It's necessary to use a large pan as the boiling jam will froth up.
The skins stop softening when you add the sugar so make sure they're perfectly soft before you do so.
If you have a jam thermometer, setting point will be between 103°C and 104°C.
Test for a set. Remove the pan from the heat. Using a teaspoon, put a few drops of jam onto a very cold saucer. Leave it to cool and push gently with your fingertip. If it wrinkles, then setting point has been reached. If it doesn't return the pan to the heat and continue boiling and check again at 5-minute intervals.
When at setting point, draw off the heat, leave for 2 minutes and then skim off any scum. Ladle the jam into warm sterilised jars and cover with waxed paper circles. Cover the jars with a clean t-towel and leave to cool completely. Cover with lids or transparent cellophane covers. Label and store.
---
Many of these recipes for gooseberries are suitable for using frozen gooseberries direct from your freezer. If you find a bargain supermarket deal or have excess fruit from a harvest, it's worth considering storing them this way. Read our guide on how to freeze your gooseberries!