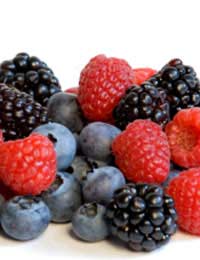 Berries and small fruit are delicious, nutritious, and easy to grow at home. They take up very little space and are relatively low maintenance. What's more, some of these berries, such as blackcurrants and blueberries, fall into the superfood category, so there's no excuse not to have a pot or two of them on your balcony or patio.
Most berries come under the sub-categories of cane fruit or bush fruit. Cane fruit includes:
Bush fruit includes:
Blueberries
Gooseberries
White currants
Strawberries and grapes fall into neither category. These are classed as small fruits.
About Cane Fruit
The most common cane fruits grown in the UK are blackberries and raspberries.
Blackberries
Blackberries are widespread in the UK and are found growing wild in nearly every uncultivated piece of land. They are prolific growers, and can overtake a plot of land in a very small amount of time. They produce delicious, small black or dark purple berries which are popular for use in jams, pies and eaten on their own. The berries are also popular with birds, however, so it's vital to get to them quickly once they're ripe.
A much tamer version of the blackberry bush can be bought and grown in domestic gardens for those who prefer a fruit supply at the back door.
Blackberries are loaded with vitamin C, an antioxidant which helps prevent premature ageing, heart disease and cancer. The berries are quite perishable, so handle them with care. Once picked, eat them within 24 hours.
Raspberries
Raspberry canes are also prolific growers, but you're less likely to see them colonising a piece of land, as you are blackberry brambles. Raspberries are less brambly than blackberries and easy to train to a support. They produce small, tightly packed red berries (though you can get golden varieties), which fruit either in the summer or autumn. Many growers have both summer and autumn varieties in their gardens as this produces a longer raspberry season for them.
Raspberries make great jams, seedless jellies, pies and ice creams, and freeze and dry well. They are a fantastic source of vitamin C and manganese, and contain vitamin K and magnesium too. Like blackberries, once picked they should be eaten within 24 hours, and handled with care.
Bush Fruit
The most commonly grown bush fruits include blackcurrants, blueberries and gooseberries.
Blackcurrants
Recent research has shown that blackcurrants have more nutritional benefits than other fruits. They contain high levels of antioxidants and are tipped as the berry to prevent the onset of Alzheimer's disease.
They are relatively easy to grow, and take up little space. It's best to grow them in the ground, however, as they grow long roots, which enjoy a free run. The berries make a fantastic cordial, and can be used in pies, ice cream and summer puddings. Why not top a crisp salad with a few berries? They'll look great and add some textural interest too.
Blueberries
Blueberries are popular with celebrities as they are bursting with nutrients and flavour, yet are very low in calories. They are also loaded with antioxidants, which destroy harmful free radicals in the body. Indeed, blueberries are linked with the prevention of a multitude of ailments and diseases, including upset stomachs, macular degeneration and heart disease.
They are easy to grow and look fantastic in a pot on the balcony or patio. They are delicious in pies, cobbler and are fantastic in muffins or eaten on their own.
Gooseberries
Gooseberries are juicy, tart and full of flavour. They are roughly the same size as grapes, though have tiny prickles on them, and sometimes feature brown stripes. Traditionally associated with old boys on the allotment, the gooseberry has seen a drop in popularity as a fruit. Now, however, it is undergoing something of a revival.
There are two types of gooseberry, the green type, which comes early in the season and is best for use in cooking – try gooseberry fool or poach them and serve with fish. The late-season gooseberry is delicious eaten raw. Make jam with them or eat in a salad. They are packed full of vitamin A and C and can be stored in the fridge for up to three days before eating.
Strawberries and Grapes
These are delicious summer small fruits and are both incredibly versatile. Strawberries can be eaten raw, served with cream, made into jams, jelly, coolie, tarts, or dried and eaten as a snack. Grapes make superb wine, can be eaten raw, and when dried they turn into raisins, which add a completely different textural and taste sensation.
Strawberries are loaded with vitamin C, manganese and folic acid. Grapes contain vitamins A, C and B6, potassium, calcium, magnesium and folic acid. Both fruits are best eaten fresh. It's no secret that eating fruit is good for you. British berries are fantastically varied and versatile and are tasty and nutritious too.