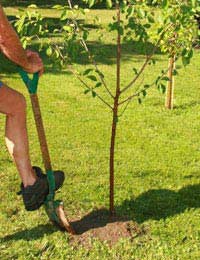 If you want to get a start growing fruit in your garden you'll need to provide the plants with the right conditions. Some plants and trees can be quite fussy, requiring certain types of soil, a sunny position or plenty of room to 'breathe'.
Fruit Trees
Fruit trees come as bare root plants or in a container. If you are planting them in the ground ensure the soil has good drainage, so the trees don't get waterlogged, and dig in plenty of rich, organic matter to provide nutrients to make them grow strong and healthy.
If you only have a small space, don't worry. Many fruit trees can be grown in small areas, but you will need to prune them regularly to ensure they stay small and compact and produce high yields. If you're training them along a trellis it's best to start doing this when they're young. Cut them down to knee-level to keep the growth canopy low. This will keep your fruit at an attainable height and make it easier to prune in the long term.
The following tips will help you create the best environment for your fruit trees:
Take care when transporting your fruit tree. They can die of shock. Keep the root ball damp and keep the tree out of the sun until you plant it
Identify the line where the scion was grafted onto the rootstock and keep this above the ground. If the graft line is placed under ground level the tree may revert to the rootstock variety and you could end up with quinces or crab apples instead of pears or apples
Thin the fruit on the branches when it is small to ensure the remaining fruit is able to grow to its correct size
Rake up any fallen leaves as they could contain fungal spores which could infect your tree
Only prune in late winter or early spring as the trees are dormant during this time
Cane Fruits
Raspberries and blackberries are deep rooting and so need a well-cultivated free-draining soil. They prefer full sunlight but will tolerate partial shade. Make sure all weed roots are removed and incorporate plenty of rich, organic matter into the soil.
Choose healthy looking canes and plant in rows 1-1.5m apart. At the end of the first year's growth new canes will shoot up. Leave these to bulk out the line a little, but take care not to let it get out of control. Raspberries in particular, are very susceptible to mildew and rot.
Keep the canes well supported by stringing wire in between four wooden posts in a rectangle. This will help prevent the plants from wind damage.
Bush Fruit
Plant blueberries in ericaceous compost. They do well in pots due to their fussy soil requirements and should be watered with rain only. This is because they enjoy an acid soil and can't absorb iron from soil, which contains too much lime. Plant them in a sheltered site in full sun or partial shade.
Keep unripe strawberry fruits off the ground to prevent them from rotting and snip the runners before they start to grow so the plants will concentrate their energy on growing the fruit.
The following tips will help you create the best environment for your cane and bush fruits:
Cut down the canes of blackberries and raspberries to just above ground level when first planting. This eliminates any diseases that may have travelled with your canes to your plot and lets the plants become well-established before flowering
Prune them every year to prevent them from taking over your garden
Mulch your strawberries with straw to keep the fruits clean and help ward off slugs
Taking care to ensure your fruit trees, bushes and plants get off to a good start will see them cropping each year, proving you with masses of tasty home-grown fruit.