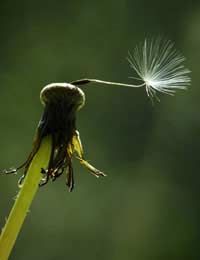 Growing your own fruit is relatively hassle free. But there are some precautions you should take to ensure your crop is not attacked by pests or overpowered by weeds.
Prevention is Better Than Cure
There are plenty of things you can do to ensure you grow strong, healthy plants that will resist any attack from pests or competition from weeds. When you buy your plants, make sure they come from a reputable supplier, who can guarantee they have a degree of resistance to disease. Make sure your growing medium is fertile and well cultivated, and don't over feed them in the early stages of growth. This will encourage lush, sappy growth of leaves and shoots, which will leave them open to attack.
Weeds
Weeds can be prevented by thoroughly digging the ground before planting and removing every trace of weed roots. Some weeds, such as bindweed and couch grass will grow from a tiny piece of root, so it's important to remove every last piece. You can also mulch the area after planting to suppress their growth by restricting light to the area. A mulch can be in the form of a piece of carpet or mulch mat, or a layer of straw or thick compost or well-rotted animal manure, which is placed around the stems of the plant t prevent weeds from growing.
Pests
The most common pests that affect fruit are birds and aphids. Birds are particularly keen on berries, though other soft fruit can also be attacked. Using netting can ward them off, simply place it over the plants so the birds can't access the fruit. Make sure you do this after the plants have flowered, however, as you'll need bees and other pollinators to come and fertilise them to produce a good crop.
Aphids are attracted by lush new growth, and are often found at the growing tips of plants. They feed on the plants' sap, and secrete a honey-type liquid that ants love to drink. You'll often find ants milling around areas where there is a high concentration of aphids.
Aphids can be prevented to some degree by growing your plants organically. This is because the plants grow less vigorously and, as a result, they develop thicker cell walls. The sap they produce is less appealing to the aphids and so they are more likely to attack a plant with plenty of sappy, lush new growth.
A few aphids on the growing tips of plants is nothing to worry about. They will attract ladybirds and lacewings to your plot, which will eat them, and their larvae will also eat vast amounts of aphids before turning into adults. If you do have a heavy infestation, simply rub them off with your fingers or blast them with a powerful jet from your hose. Do this after the plants have flowered however, to prevent any blooms from being damaged.
Host-Specific Pests
Apple trees can fall victim to a number of pests, including:
Apple sawfly – these produce ribbon-like scars on the skin of the apples
Winter moth – they make holes in the leaves
Codling moth – you'll find a maggot inside the apple
Woolly aphid – they leave white fluffy areas on the bark
There are several chemical sprays you can use to combat apple tree pests, but they can impair the flavour of the fruit and you will ingest them when you eat the apples.
The best methods of dealing with pests are good hygiene, and encouraging natural predators to eat them. Keep your trees clean by removing and burning any fruit and leaves that have fallen prematurely, or shows signs of infestation. Our guide to common apple tree pests and bugs has more information for fruit tree gardeners.
Raspberry and blackberry canes can be attacked by:
Raspberry beetles – eggs laid on the flowers hatch into pale brown larvae that feed on the fruit
Big bud mite – tiny bugs laid in the buds of plants will cause them to swell and prevent them from developing properly
Any bugs that survive as pupae during winter around the base of the plants can be hoed up to the soil's surface and left as a treat for the birds. Burn any infected material and keep an eye out for infestations. If you plants are attacked, it's easier to deal with them if you 'nip them in the bud'.
Strawberry plants can be attacked by:
Red spider mite – causes the leaves to appear speckled. They thrive in warm, dry conditions so regularly mist the crop with water to deter them
Slugs – virtually impossible to eradicate, they will eat your plants and fruit. Attract hedgehogs and frogs, which will eat them, or grow them in raised beds where slugs can't reach them
Overall, your fruit is unlikely to be troubled with pests. Make sure you clear away debris on a regular basis and weed around the plants regularly to prevent them from competing with your crop. Encourage natural predators to visit your garden and eat your pests, and you should have abundant masses of fruit to eat in the summer.